Introduction
Microsoft is presenting two new Surface tablets, saying "reinventing the wheel is not the goal, making it better is." This better wheel of theirs features a more powerful chipset, improved battery life, better screen, more ports, and even the accessories are better.
Well, there were quite a few complaints about the original Surface duo, but Microsoft seems to have taken them to heart and made the tablets better.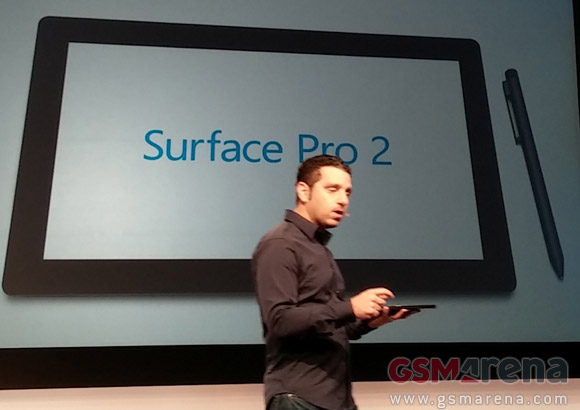 The high-end model is the Surface 2 Pro with a new Haswell processor from Intel. This new chip allows it to run faster, cooler and use less energy in the process. Microsoft claims the Pro 2 is faster than 95% of laptops out there and even showed how it processes 6K footage (9x Full HD resolution) in real time.
The battery life has gone up by an equally impressive 75% (again thanks to Haswell), and that's before you add the Battery cover.
Speaking of covers, the new Type Cover is 1mm thinner than before – that's as thin as the first-gen Touch Cover – but features an improved key travel of 1.5mm and it's even backlit.
The Surface 2 (it's just that now, the "RT" has been dropped) has seen some major improvements too. For one, it's now white to accentuate its magnesium build (there won't be a black version). Also, Microsoft moved to from a 3 piece design to a 2 piece one, which is also thinner and lighter than the first generation product.
The Surface 2 features the same 1080p screen from the Surface Pro 2, no more 1,366 x 768 resolution that other tablets make fun of. The chipset is 3-4 times faster too and the bus speeds for memory and Wi-Fi have also been improved.
Battery life on this model has been improved by a modest 25%, but battery life was a problem for the Pro more than the RT.
The second-gen Surfaces will run Windows 8.1 and Windows 8.1 RT, respectively.
Stay tuned as we're looking to get some face time with the new tablets and we'll post hands-on impressions here!
D
they have 512 gb version also
D
I am trying to purchase a Pro 2 with 512GB in HK through the preferred retailers (like Suning and Fortress)but I was told not only would I be able to order it, but also that they do not know how to order it from Microsoft. One of the retailers even ...
D
microsoft has really improved surface from the previous version... the tablet with these kind of specs is surely appreciable and definitely worth checking out...