Microsoft could really be working on a Surface Phone, it turns out. That's because a mobile device bearing the name Microsoft Surface Phone was recently put through the paces of the HTML5test benchmark, running Windows 10 Mobile no less (which the benchmark hilariously lists as Windows Phone 10). The browser used was Edge 12.
The Windows 10 build on board this mysterious smartphone is an older pre-release affair which has the same designation as the final edition of Windows 10 for the desktop. And the device is listed as having a 640x360 screen, which is clearly absurd - but if it's a prototype it may just be tested at different resolutions for whatever reason.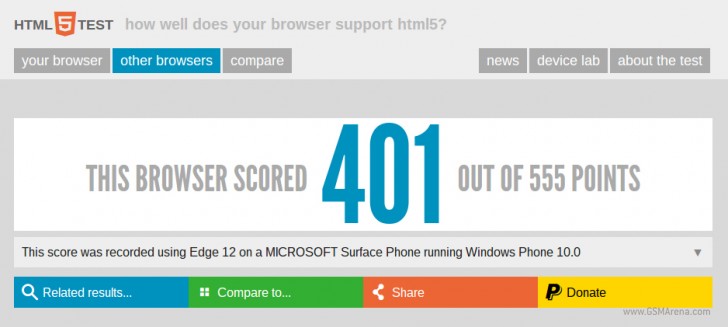 Unfortunately no other details are known yet about the Surface Phone. However, bear in mind that the first time we've heard a rumor about Microsoft creating such a handset was back in September. Of 2012.
So while it may be that the software giant has finally decided to give the go-ahead for the project taking its Surface brand beyond tablets and laptops, this result could also have been faked. Or "Surface Phone" might just be what Microsoft decided to call its Windows 10 Mobile developer board in order to troll people anxious for an actual Surface phone.
C
It's not the NUMBER of apps... it's the lack of IMPORTANT (to the user) apps. When your friends are asking you to join their Clash of Clans clan, you can't. They're not just going to start playing Age of Empires simply because that's the one game y...
D
According to this sites own internal testing it offers above average battery results: http://www.gsmarena.com/lg_nexus_5x_battery_test_results-blog-15120.php To summarize, "The LG Nexus 5X is good for about two and a half days of moderate use, ...
ADVERTISEMENTS