Market research firm comScore's latest report reveals that Microsoft's Bing is continuing to gain market share in the United States, although slowly and steadily. On the other hand, market leader Google's share has dropped a bit.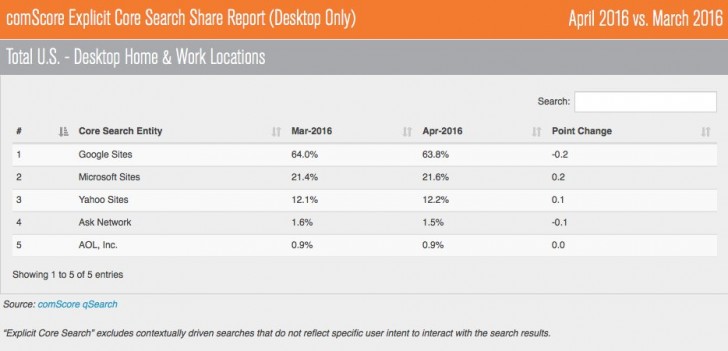 The latest numbers reveal 21.6% market share for Bing, up slightly from the previously revealed 21.4% share. Google, meanwhile, saw its market share dipping from 64.0% to 63.8% during the same time period.
Yahoo came in at number three with 12.2% share, while Ask Network and AOL rounded up the top 5 with 1.5% and 0.9% share, respectively. In case you don't already know, AOL's search is now powered by Bing.
D
I was actually going on about how Bing is default on pre-assembled PC and it would be almost directly related to Bing usage. You were the one waffling on about how people can't "opt" out of things.
T
Better!, better for who ?. Everyone has their own idea what is better for them, whether that be Bing or Google, that's why choice is a good thing, and monopolies are not. As for your assumption on my choice, and you banding around conspiracies a...
D
Wow 21.6% of desktop search market share, not too shabby Bing. Also they should just add AOL's numbers as well.