Huawei MediaPad T2 Pro 10.0 tablet spotted before official announcement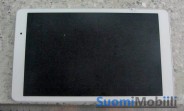 Huawei has an event scheduled for later today, but a Finnish site posted a sneak preview - photos and specs of the unannounced Huawei MediaPad T2 Pro 10.0.
This is the replacement of the T1 10 from last year and it has improved specs throughout.
The MediaPad T2 Pro 10.0 will have a 10.1" screen (yeah, we know) with 1080p resolution (a massive jump from T1's 9.6" 1,280 x 800px). Beside the screen is a 2mP selfie camera, while the camera on the back has an 8MP sensor (and a single-LED flash).
The tablet will be powered by a Snapdragon 615 chipset with 2GB of RAM and 16GB storage (no word on Android version yet). The battery grew to 6,660mAh.
Stay tuned for more details, Huawei's press conference starts today at 14:00 CET. And we'll be there - we expect to see some phones (like the P9), besides the MediaPad tablet, a hybrid laptop too.
Source (in Finnish)
?
Absolutely true, Anonymous, last years tablets are aweful (in cpu and android version), or an ipad pro and priced like one. The Samsung Tab S2 is quite okey, but lacks custom rom support (forever, because of exynos) and is still on android 5.1..
?
Shield tablet maybe? The next one might be interesting. Also the performance needs of tablets are not so much greater than that of phones. The resolution did not change much the past years and decent phone SoC have plenty of power for tha...
?
And then they wonder why Windows Tablets are on the rise. I kid you not, I haven't seen *one* high end (in Specs) Android tablet since 2013 (I think Note 2014 was the last one). Everybody else either use godawful SoCs or last year's flagships, ...
ADVERTISEMENTS