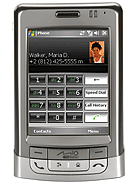 m
To change the language you have to reset it by pressing the on/off button and the one from up in the same time. You will get the original settings in English and will have to make some adjustments like the resolutions of the screen ... and language.
This is the only way to change the language of the phone. I bought this phone 4 years ago and had as language POLISH!!! and the dealer didn't know how to change the language but he spoked directly with the guys from Mio and this is the only way
B
i have a problem with ma mio a501 its all in french and do not no how to change it to english please help me
U
I have tjis mobile but i don't know if i can do records to my incoming calls.Is there Someone to know about this?
x
it'a a good pda. the gps works perfectly with miomaps3...a little bit slower (procesor) verry light weight and lot's of application but the price is good comparative with others pda's like htc or hp
(a few problems with pc sync...my computer didn't detect it until i start the dhcp service)
wi-fi :((
A
It's nice but not thrilling. Some may certainly feel the lack of wi-fi or 3G, but my advice is that it's worth spending ure money on..
P
I can not configure my gps receiver and tomtom6. Anyone can help me please...
E
Hi, I have a question about this PDA. why i can`t download files from mail attachments? is a software problem? and i can`t Forward messages. Can anyone help me?
Total of 15 user reviews and opinions for Mitac MIO A501.