A month after it debuted in China, MUI 12 has made its way to the global scene and will be available in beta form as early as next week. Xiaomiís latest custom UI brings revamped visuals, improved dark mode and better privacy controls among other things.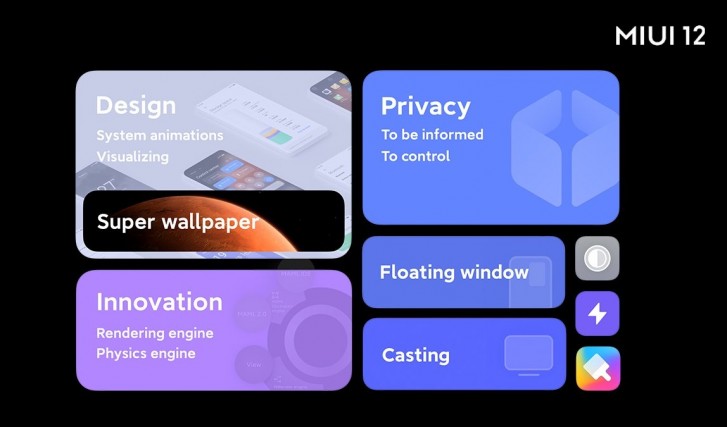 MIUI 12 also brings stock Android 10 navigation gestures, new quick reply feature, floating windows and a new universal casting feature that supports Miracast standard. Itís scheduled to begin seeding to Mi 9, 9T, 9T Pro and K20, K20 Pro users by the end of June. A second, larger batch of phones is expected to get MUI 12 soon after.
MUI 12 Global release schedule:
Round 1 (end of June)
Xiaomi Mi 9, Mi 9T, Mi 9T Pro
Redmi K20, K20 Pro
Round 2 (date TBA)
Redmi Note 7, Note 7S, Note 7 Pro
Redmi Note 8, Note 8T, Note 8 Pro
Redmi 8, 8A, 8A Dual
Redmi Note 9, Note 9s, Note 9 Pro, Note 9 Pro Max
Redmi 7, Redmi 7A
Redmi 6, 6A, 6 Pro, Note 6 Pro
Pocophone F1, POCO X2, POCO F2 Pro
Xiaomi Mi 10, Mi 10 Lite, Mi 10 Pro
Xiaomi Mi Note 10, Mi Note 10 Lite
Xiaomi Mi 9 SE, Mi 9 Lite
Xiaomi Mi 8, Mi 8 Pro, Mi 8 Lite
Xiaomi Mi MIX 2, Mi MIX 2S, Mi MIX 3
Xiaomi Mi Note 3
Xiaomi Mi MAX 3
Redmi Y2, S2, Y3
Redmi Note 5, Note 5 Pro
A
will we ever see "auto screen rotate" tho? it came up with android 8 or 9 , literally every other phone manufacturer implemented it, still no sign of it in MIUI. New fonts and animations are nice but would be great if all the new android features wer...
R
what about Redmi Note 4
?
google or xiaomi dialer ? (call recording)