Canadian phone manufacturer Mobiado announced a new addition to their We-wonder-if-anyone-actually-buys-those line - the Mobiado 105GMT White. Part of the Luxury Watchphone series it offers exquisite looks and materials normally used only in jewelry. Quite naturally the price tag reflects that too, bringing a distinct air of exclusivity to the devices.
The nickel-plated brass frame of the Mobiado 105GMT White is held together by titanium screws and is covered by whole sapphire crystals.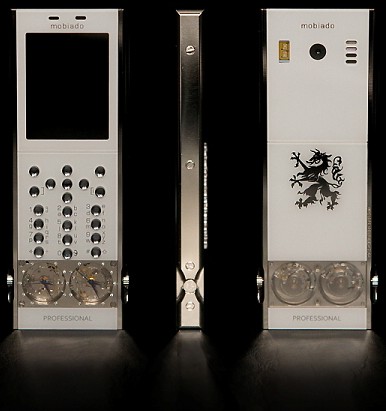 Mobiado Watchphones are rather unique with the two automatic mechanical Swiss watches built right into the handsets themselves. The numbers on the watch face are made of diamonds (what else?) and the whole thing is supported by a shock absorbing system. They even give the ability to see three time zones simultaneously - now that must be quite some technology, right? Oh, wait – it's not – 100-dollar phones have been capable of that for ages.
The Mobiado 105GMT White is surprisingly thin at 10.6 mm at its slimmest part but it does weigh the respectable 240 grams, which is hardly surprising given the materials used. The specs are crippled as the tradition for a luxury phones goes.
The 105GMT White runs on S40 5th release (you can bet there's Nokia involvement here) and sports quad-band GSM and a dual-band 3G. The other features include a 2" QVGA screen capable of showing up to 16 million colors, 1 GB of internal memory and a 2-megapixel camera. Bluetooth and charging via microUSB is something else customers might enjoy with the Mobiado 105GMT.
Only 50 of these will be made so you won't have to worry about bumping into someone else with such a phone. The price has not been announced but if you have to ask for it, you probably cannot afford it anyway.
E
That black panther is Slovenian national simbol http://www.hervardi.com/crni_panter_slovenski_grb.php
?
woww....i love this phone....feels nice in ur hand....and has a simple easy to use interface(reminds me of nokia)....of course the price is hefty.....but i had the choice...this thing or my 6th iphone clone.....so i decided to end the oops i touched ...
e
It's a super-heavy, super-expensive nokia 6500 classic.. for the price, you should be able to get a phone with a custom OS. Only stupidly wealthy people will buy it, as they can afford the armed guard you'll need while using it in any city around the...
ADVERTISEMENTS