Mobiado has been around for quite some time now, establishing itself among the premier makers of ultra luxury mobile phones. With its latest creation, dubbed Grand Touch, the Canadian company adds, for the first time, an Android device to its portfolio.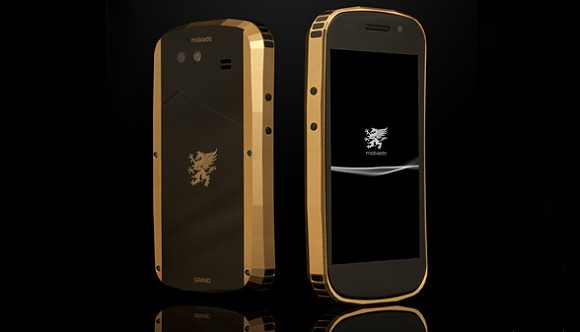 As you can probably tell from the picture above, the new Mobiado droid is no other but a Google Nexus S, which has gone through some serious gold treatment. Using the Google phone should give Mobiado a relative edge on the market for ultra premium Android devices, because Tag Heuer and Ulysse Nardin's offerings are certainly not up to date in the software department.
The Samsung made device has gone through a serious visual transformation including 139 carats of sapphire crystal and 24 carat gold plated body which has been CNC machined. The device's buttons are also made from sapphire crystal. You also have the option of having inlayed crystals in the corner facets of the droid, should you decide that it might look too plain.
The device will be available in yellow or rose gold options. In case you are on a budget, you can have it in aviation grade aluminum as well, or just make do with a plain Google Nexus S.
There is still no information on pricing, but we suspect that the Mobiado Grand Touch will not come cheap. Hit the source link for a couple of more pictures and tell us how you like it in the comments section below.
S
PS: Your undoubtedly superior command of the English language includes an unusually awkward and clumsy sentence construction, and the missing comma rather undermines your entire argument. Well done.
S
My dear old thing, your assumption that those who laugh at such silliness can be classified as filthy, flat cap-wearing proletariats armed with ferrets is entirely wrong, and shows you to be the sort of chap who has mistaken wealth for class. Your...
B
If android hits premium market. Others Watchout
ADVERTISEMENTS