The Canadian phone manufacturer Mobiado has just released three new additions to its lineup of insanely-expensive phones. White and Red special editions to the 105EM model were unveiled as well as the brand new 105CLB. As usual for the company, exquisite looks, rare materials and sky-high price tags define the phones.
The 105EM Special Edition White of the Mobiado will be have a body made of burl wood inserted into a nickel-plated brass frame (dermatitis, anyone?). The screws are made of titanium and the buttons are made of pure sapphire crystal, hand painted with silver paint.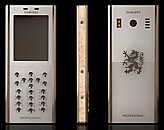 Mobiado 105EM Special Edition White
The Red special edition is too made of burl wood but unlike the white one its brass frame is 24K gold plated and so are the brass screws. The buttons of the 105EM Special Edition Red are made of sapphire crystal, hand painted with 24-karat gold. And if by this point you thought it cannot get any more lavish (and wasteful) just wait and see the final phone in this announcement.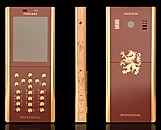 Mobiado 105EM Special Edition Red
The new Mobiado 105CLB has been crafted from large pieces of sapphire crystal and printed from beneath with the silver Mobiado monogram. Its frame is manufactured from aircraft aluminum, polished and then again nickel plated. The unique battery cover is made of a single piece of sapphire crystal. Mobiado 105 CLB will be available in two flavors - White and Black.
All of the newly introduced Mobiado phones (and most of the previous ones as a matter of fact) support quad-band GSM and dual-band UMTS (850/2100MHz). They all have 2 megapixel snappers on board and 2" 16M color displays of QVGA resolution. Some of the other features include Bluetooth, 1GB of internal memory (expandable through the microSD card slot), micro USB as well as Nokia Series 40 5th edition UI.
There is no information regarding the availability or the pricing of any of the new handsets but if you are to purchase one of them you'll know where to get them (selling a kidney should do).
A
Why would someone buy this phone?, for two reasons, they want to , and they can !
n
OMG!!. so pretty. i love it!! Imma get this 3 news for my collection.
?
I'd rather donate to charity than to waste the cash on these pieces....The price of these phones can get the best nokia phones in the costliest markets of the world with alot of change to buy some good balanced diet with...i can bet that Bill gates w...
ADVERTISEMENTS