The Chinese Ministry of Industry and Information Technology (MIIT) usually appears on the radar when we are talking about a certain smartphone being licensed for sale and listed on TENAA. Now, we get something different as MIIT released statistics about the domestic mobile phone market between January and October 2018 and the numbers do not look good.

Amount of sold devices per month; monthly increase/decrease
For the first ten months of the year, companies shipped 343 million phones, a 15% decrease on a yearly basis. Of them, 308 million were by local companies, shrinking the foreign OEM market to just 10.2%.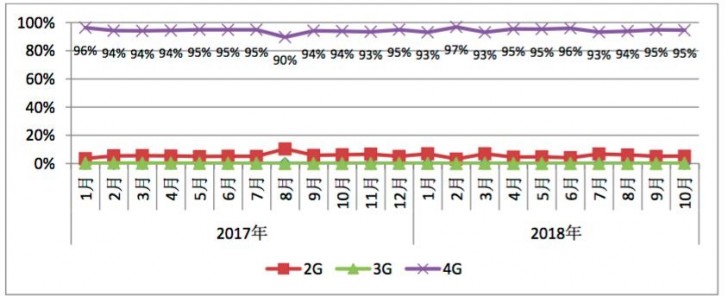 2G, 3G, and 4G market share
The numbers include all kinds of mobile phones, even feature phones without 3G connectivity, but those hardly make a difference. From January to October 2018, the market saw 18 million shipped 2G devices, a 19% decrease YoY. Percentage-wise, 4G smartphones were 94.5% of all handsets shipped to retailers and customers.

Amount of sold devices by local companies; monthly increase/decrease
MIIT also released data about the number of models. In October companies introduced 48 new models, down 25% on a yearly basis. Interestingly enough, a third of them were featurephones for domestic needs. The total number of new models since the beginning of the calendar year is 683, with 520 of them being 4G-enabled.
Via (in Chinese)
?
Then please buy a non chinese made phone by all means.
?
Too many phones are being released. every day a new phone from these same companies. nobody is buyig them .
?
The prices have increased slightly but so have the sales