Instant messaging
Instant messaging is another area where mobile phones have been vastly improving recently. Being probably the handiest messaging option, IM's only problem at this stage is it's pretty data-traffic-intensive.
Still, one in three users globally and about half of those aged 18-24 use an IM service daily. The feature is still to gain speed with people older than 41, who probably don't have the time or the habit.
South Americans, Asians and Africans are also very keen on Instant messaging, while Oceanians seem least interested.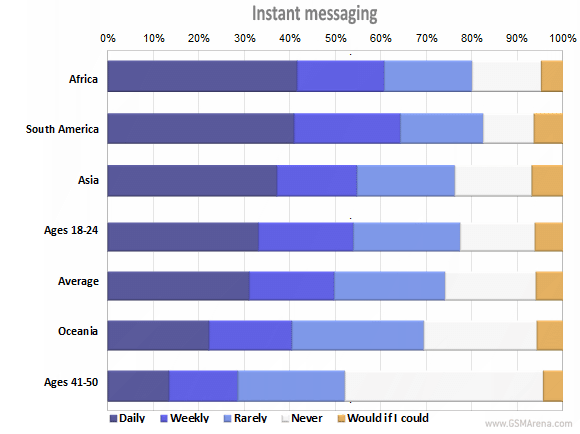 Social networking
Social networks are all the rage these days and given how important it is to always be online, it's only logical that more and more people are using their cell phones to engage in social network activities.
By current count, 53.2% of users update their status, upload photos, read updates and whatnot on their cell phone every day, while another 26.6% do it occasionally. With just 3.8% of you selecting the "Would if I could" option, it's more than clear that social networking has already been made available to about everyone who wants to try it.
Naturally, it's the younger users (up to 24 years) who are the most active, with the number using the feature daily nearing 60%. Expectedly, with users over 50, the percentage drops below 25.
In geography terms, it's Oceania in the lead, while conservative Europeans are obviously not as enthusiastic about handheld social networking.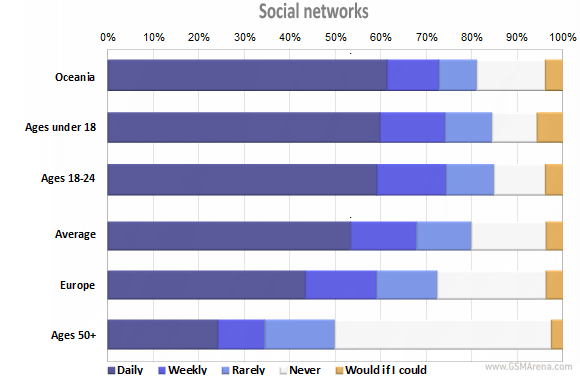 Taking photos
For a while there, the megapixel war and the cameraphone evolution seemed to have stopped so we were wondering if people had actually given up on the idea of having their cell phone replace their digicam. Then came the N8, which became insanely popular and we knew it was just a temporary loss of form rather than a decreasing trend.
The poll results come to confirm this: 39% of daily usage doesn't sound like much, but that is easily explained with the fact that there're just not many things you need to shoot everyday.
However the total user base of 98.6% for this feature leaves no doubt that our readers like to take photos with their cell phones. Even in the group that takes the least photos - women - only 2.7% never use the feature and that is including the 2% that would like to give cameraphones a try.
As far as frequency is concerned – photography seems to be an age thing – teenagers are most likely to take photos on a daily basis, while 50+ users only use the camera on their handsets once a week.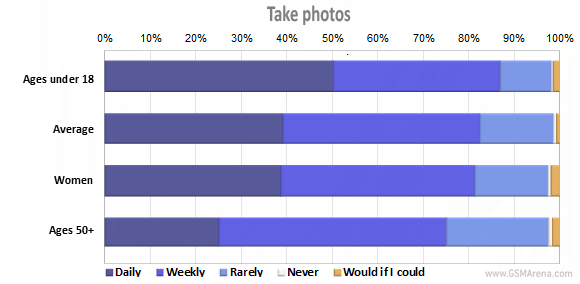 Using special shooting modes (panorama, HDR etc.)
We were curious to know if many of you were using the so-called special shooting modes that are nowadays considered essential in every self-respecting cameraphone. It looks they have a quarter of the daily popularity and about 75% of the total popularity of taking photos in general. By all accounts, they emerge as must-have's – mobile photography wouldn't be the same without them for three quarters of the users out there.
Interestingly enough, women use those feature more than men, despite shooting less. Teenagers are, of course, the most active in their usage, but that's just because they also take the most photos. Extra camera features are also way more popular than average for users in Asia.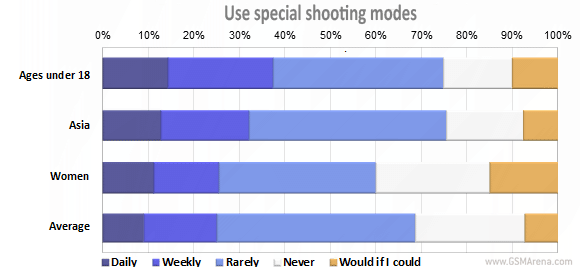 Shooting video
Understandably, video capture isn't as popular as still photography for mobile phone users. This is mostly explained by the fact that by the time 8 megapixel cameras were available on mobile phones, the camcorder capabilities still hovered around VGA or D1. It was always easier to find a decent still camera while video recording was, until not too long ago, often left out of the spotlight.
But no more – the 720p and 1080p barriers were broken in quick succession, while continuous autofocus and lossless digital video zoom started making their way into the smartphone world. At this point top-end smartphones are some decent image stabilization away from matching digicams in video recording.
And when that happens (or even before that) we believe the 13.4% of daily users will increase rapidly. Still we don't think it will ever match the still shooting popularity as still pictures are often used for other purposes – capturing labels instead of writing notes, scanning barcodes etc.
And just like still photos, videography is an age thing – the younger are the most likely to shoot a video clip each day. And just in the same way, women are far less likely to do it than men.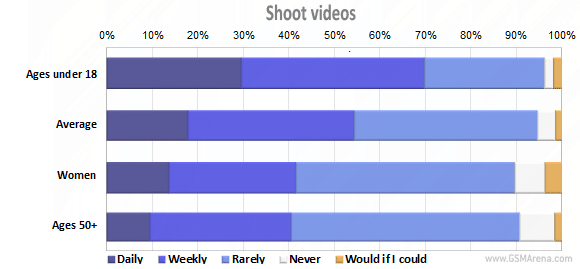 Sharing photos and videos
From creating content to sharing content – the step is getting shorter and shorter as cell phones in general, and smartphones in particular, evolve. No wonder then that 13.6% of all people share a photo or video at least once a day, while one in five uploads some images or footage each week.
One in three users worldwide uses photo/video sharing on their mobile very rarely, but the tendency is there for everyone to see.
Given the little interest they have in social networks and instant messaging, it's hardly a surprise that people aged 50+ are least likely to share the content of their cell phone galleries. It's definitely an age thing.
Looking at the geography, we once again see South America in the lead with Europe lagging behind.