Watch online videos
If movie watching was a rapid evolution then this is nothing short of revolution. Driven by music videos and short funny clips, online videos popularity is almost double that of regular movies.
Once again, women are far less impressed by mobile videos than men, while age distribution is distinctly skewed towards the young.
Users living in North America tend to watch online video from their handsets the most, while African users have selected the Would if I Could option more than those in any other continent.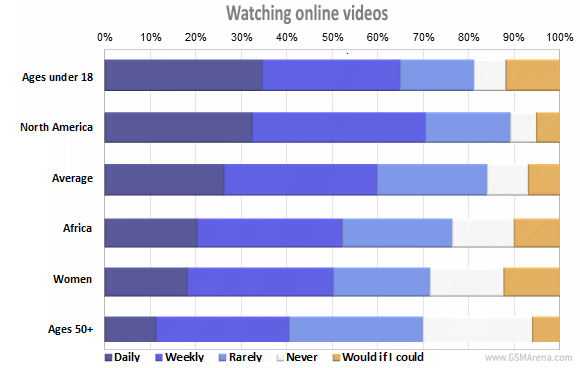 Stream content over DLNA or TV-out
And while watching videos on a phone is a popular pastime, streaming them over DLNA or a regular TV-out is still not that widespread. You see, TVs are only now getting up to speed, cables are not always at hand and content stored on phones is rarely good for streaming.
Still this one scores big in the last column, which means that it probably has a bright future ahead of it. African users are most eager to try it out, but the demand is consistently high across all continents.
Right now, teenagers tend to give the relatively new technologies a better chance than the other age groups (DLNA more than TV-out, of course). Across the world usage of the feature is pretty evenly matched - North Americans are slightly more enthusiastic than average, while Europeans are once again slow to adapt the new technology.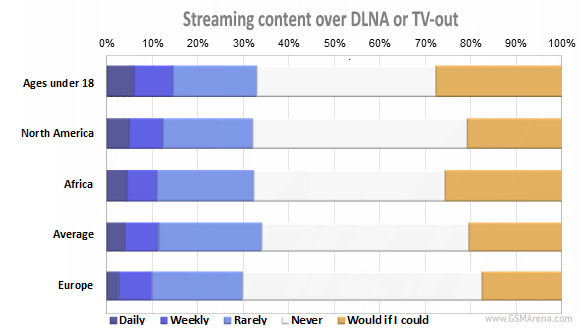 Mobile Gaming
Mobile gaming is currently enjoying so much success that app stores are judged by the number of high-quality games they offers. Popularity with youngster exceeds 60% as far as daily gaming is concerned and while interest in mobile games gradually drops as age increases (and free time shrinks) the overall result is 47.7%. And if you include those that play games on occasion the result is over 90%.
Asian users game the most on their cell phones, while Europeans are not much into that. Women tend to play mobile games less than men, though the difference is quite subtle.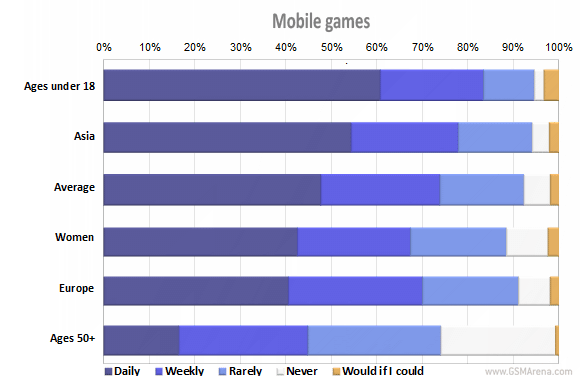 Web browsing
The proportion of users who browse the web on their phones was quite a surprise to us – 78.6% daily and over 96% total. In fact, just one in 80 respondents have never browsed the web on their handsets.
Women tend to lag a bit behind here – their daily usage is more than 10% lower than that of men. The same goes true for people over 50, while the numbers for other age groups are consistently high.
Oceanina holds the lead in mobile web browsing with over 83% of the users visiting at least one web site on their phone each and every day. South Americans rank lowest here at just 73.4%.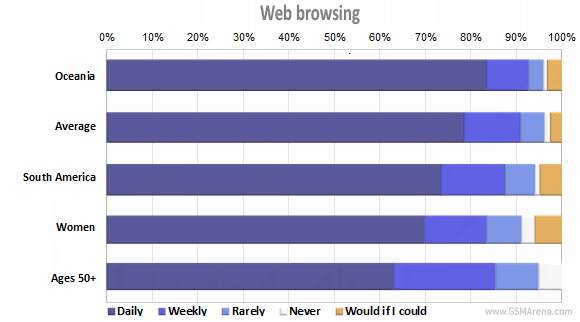 Getting RSS updates
Surprisingly, RSS feeds are best appreciated by those aged over 50, with those aged 25-32 coming a distant second. Teenagers on the other hand use that feature half as much.
The RSS feeds are most popular among North Americans, while South Americans tend to use them the least.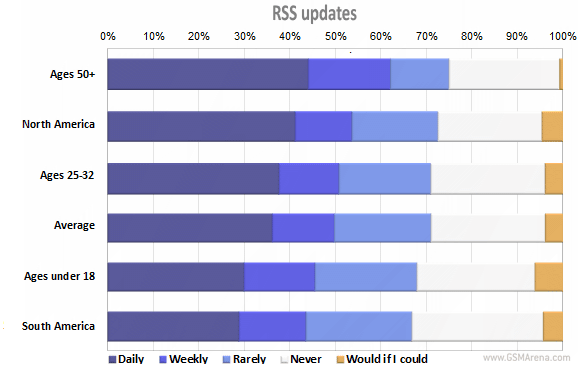 Installing new apps
Apps are the bread and butter of a smartphone ecosystem – you can't be too surprised that almost 45% of the people check out their app stores daily, while the total visitors who browse app stores are twice that number.
Women and users over 50 do so less regularly, while teenagers hang there the most.
Across regions things go like this: Europeans look for new apps less than all other continents, while Asians are the most active in the app stores. Differences here are pretty minor though.