Using as a digital map
Digital maps are readily accessible, free and increasingly accurate – no wonder their popularity spiked as data transfer charges settled and we should be seeing more of them in the future.
Women are using this feature much less than men (we guess they'd rather stop and ask for directions). In terms of age, popularity peaks in the 25-32 year group with interest notably dropping among both very young users (who don't drive yet) and users aged over 50 (who prefer either regular maps or dedicated SatNav units).
North Americans need their cell phones to double as a digital map the most, while surprisingly it's Europeans that use this feature the least. Even Africa, where the map coverage is questionable in places, is ahead of the old continent.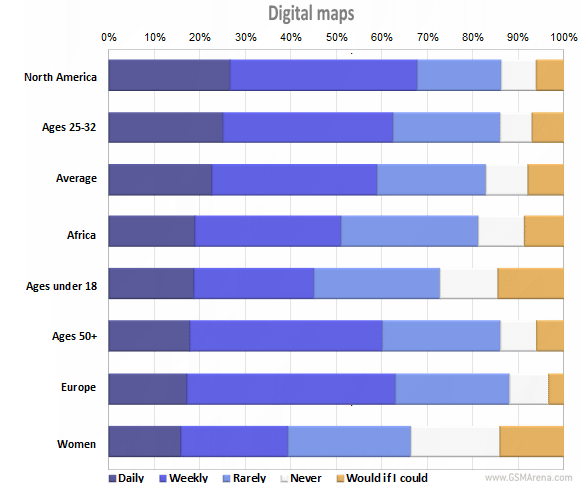 GPS navigation
Now, navigation on the other hand is still not as readily available everywhere. Most platforms don't offer free navigation just yet and those that do hardly cover the whole world. Nokia certainly helped here by making Ovi Maps navigation free and we'll probably see another spike in day to day usage when Google Maps navigation becomes available in more regions.
But the factors just listed aside, usage among different groups varies in the exact same way as digital maps. You've got the 25-32 year-old's and North Americans using it the most, while women, youngsters and Europeans do it the least. The only difference is that popularity here doesn't drop as rapidly with people over 32 years of age.
Trip planning
Not many people take trips daily so it's no surprise that Trip planning on your mobile phone scores pretty low on daily usage. Still good numbers in the weekly and occasional use categories suggest that cell phones are an important enough tool for organizing your trips.
There's no difference in usage between genders here, but patterns do vary with age. People in their late twenties and early thirties are naturally the most frequent users. Teenagers on the other hand hardly have that many trips to organize.
People in Oceania use their phones for managing their trips the most, while South Americans hardly bother.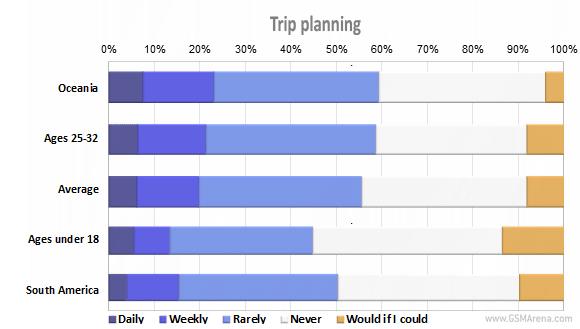 Discover new places of interest
Discovering new places of interest even does slightly better than the trip planning on overall score. Again we thought it's not something you normally do every day, but there are people who would disagree.
There doesn't seem to be an easy to define relation between usage of that phone application and age, as it's more popular with users aged 18-24 and least with those in their forties.
Asians find the most places using their cell phones, while Africans are still hesitant to trust their handsets for that. Perhaps the expensive data charges in Africa have their role.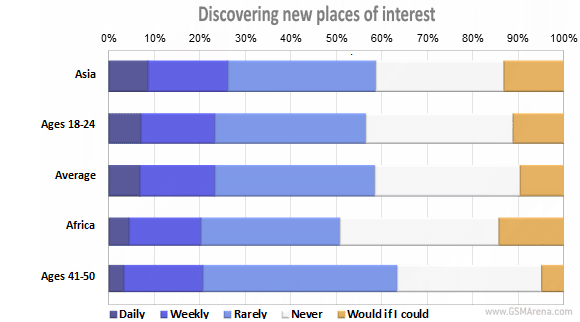 Augment reality with local info apps
According to our survey augmented reality apps are among the least used on a daily basis. Their overall user base is 43.3% of all cell phone users, but only 5.2% of them are using them each day.
Obviously developers and manufacturers are still struggling to come up with concepts that are particularly useful for the whole audience. The good news is there's a good amount of new users to be converted with the "Would if I could" answer selected by good 14.1% of the surveyed.
Augmented reality apps are the most popular with teenagers, and as age increases they become less and less appealing.
Currently, North America is the largest market of augmented reality apps, while Europeans are the least interested in them.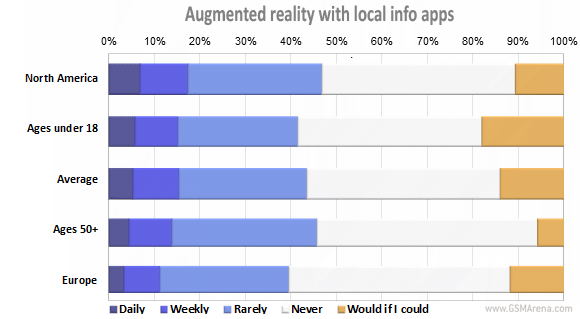 Time management with calendars, reminders etc
The organizer is one of the most frequently accessed parts of each cell phone UI. One in every two users does some time-management on their handsets daily, while one in four uses the organizer at least once a week.
Those who do not use their cell phone's PIM features are mostly teenagers. The popularity of that particular feature increases with age to reach its peak in the 41-50 year olds.
Cell phone PIM popularity doesn't vary too much across continents, the least frequent users (Europe) only a few percent behind the most active ones (Oceania).