Dedicated SatNav units
Dedicated SatNav units date back to 1990, when Mitsubishi Electric and Pioneer introduced the first GPS-based auto navigation systems. Due to the patchy map data available and the questionable accuracy of the GPS modules at the time, we wouldn't call it a flying start.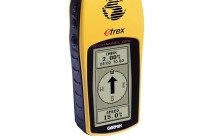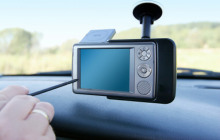 Fate wasn't too kind to dedicated SatNav units
Five years later, Oldsmobile introduced the first GPS navigation system available in a production car, but that hardly made it mass market too.
In 2000, the US military declared they would stop intentionally degrading the GPS signal (it took a good 6 year to actually complete) and the popularity of personal SatNav units exploded.
The rapid development of technology was of great help of course. GPS receivers were becoming smaller, power consumption was reduced, without compromising accuracy. Processing power improved, memory prices went down and map data was greatly improved so those personal navigators became actually usable.
PDAs and Windows Mobile smartphones (or PocketPCs as we called them back in the day) were the first to have a go at a piece of that market, but they failed to do dedicated SatNav units much damage.
Neither their screens, nor their performance was quite up to standard. Not to mention that a dedicated voice-guidance software application for those used to cost an arm and a leg.
But as mobile phones became more powerful, and their screen estate and quality skyrocketed, SatNav on a phone started to look like a more viable option. GPS modules cost pennies to manufacture so it's not an obstacle either and there is already quite a few apps that give you voice-guided navigation for free.
Nokia were the first to give free lifetime navigation with their smartphones. Next were Google and considering the huge potential of the Android platform this might be an even bigger milestone. Google is still unable to roll out their service worldwide, but you can bet they will get there eventually.
Leading SatNav manufacturers Garmin seemed to have no choice but go into mobile phones too. Is it that they're starting to realize that their traditional business is a dead-end street?
Whether or not they are ready to switch sides, others have already figured out most of the tricks so there isn't that much that they can contribute. The prices of dedicated SatNavs are meanwhile about to hit rock bottom.
The best of those hardly cost more than a couple of hundred bucks, while in the past flagships used to go for nearly a thousand. There's just very little (or even none at all) advantage that one of those units have, even over mediocre smartphones. The battery life is on their side, but that only counts when used for pedestrian navigation as a car charger costs next to nothing and will give you all the endurance you need.
Most offer a decently sensitive GPS receiver (which A-GPS makes even faster), good sunlight legibility and screen size, with a sufficiently fast interface on top. What's more constant internet connection means live updating of POIs, map data and whatnot.
So in the future voice-guided Satellite Navigation will certainly become a territory exclusive to smartphones, as its pioneers are just unable to offer any kind of response to their onward march. It's just that progress is one of those things driven by money, and the mobile phone industry seems to have it in excess.
MP3 players
For a change we turn to a class of devices that hasn't lost the war just yet. MP3 players have been taking heavy blows recently but there seems to be light at the end of the tunnel after all.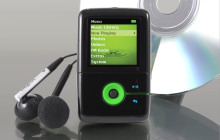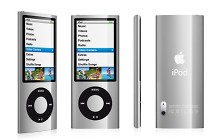 Better battery life is what keeps the MP3 players in the game
And it's not like dedicated MP3 players suddenly pressed fast forward on their evolution to save their butts. Mobile phones seem to have shot themselves in the foot instead.
A mobile phone can easily give you as good audio quality as your mp3 player nowadays and can match the battery life too. Or at least that's what the specs claim.
However, the fine print reads that a cell phone can only give you north of 20 hours of music playback in standby mode without doing anything else. With all radios off and all applications but the music player closed. So a phone can only properly replace an mp3 player if it acts as one. But that doesn't make much sense now, does it?
So all those naysayers who foretold the end of dedicated MP3 player, the minute they saw the Siemens SL45, have been proven wrong so far. This is not to say those players haven't suffered much damage. Their prices have dropped dramatically and that in turn reduces the profit they make and the investments they could justify.
When they reached the point of being no more expensive than a spare battery for your mobile phone, MP3 players were safe. But that's not quite the existence they dreamt of. The iPod family has been trying to make a difference since 2001. It certainly contributed to the survival of the whole class (though iPods are now accounting for more than half of all sales).
Apple are the only ones capable of pushing large quantities of more expensive players. The iPod touch makes great use of the R&D the company did for its mobile phone and so becomes a multi-functional device in its own right. But even Apple are feeling the heat on the iPods. Their music players are the only devices they produce that have lower sales figures this quarter (by 8 percent) compared to last year's.
So unlike most of the heroes in this sad story, the MP3 players have been evolving from the day of their invention. And that's quite a long period considering that the first MP3 player came in 1979, delivering the vast 3.5 minutes of audio playback. Now, how impressive is that?
Next were Audio Highway with their Listen Up player in 1996 and the Koreans Saehan Information Systems, who released the MPMan in 1998. Back then most of the world was still crazy about portable CD players and chances are most of you had one.
But unlike the now long dead CD players, MP3 players will stay for a little while. So we'll just call it a tie here and move on to the next item on the cell phone menu.