The Mobile World Congress is still going in full swing and we're working hard to cover every juicy bit. Here's a neat and tidy list of all the new things that have come out so far, maker by maker. We'll be updating this article as new info becomes available.
Update, 17 February: That's it folks, Mobile World Congress 2011 is over. It was hectic, it was fun and we hope you enjoyed our coverage. Check out the list below of all things that happened during the MWC.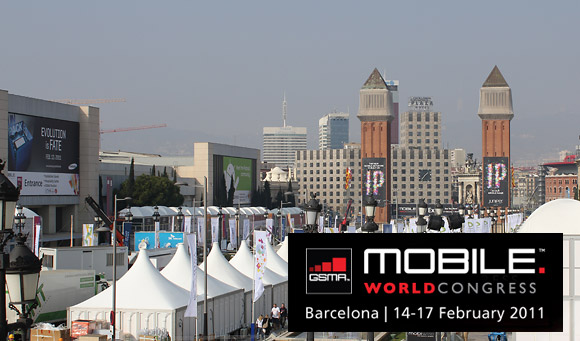 We've seen many of these phones in the torrent of leaks that preceded the MWC, but there were a few surprises too. Here's the roundup of leaks, as you can see it's pretty extensive.
One of the biggest (and most unpleasant) surprises came when Nokia said they wouldn't announce anything on Sunday. Samsung's Galaxy S II and the Tab 10.1 leaked early, LG couldn't wait and announced their stuff Sunday morning... It's safe to say it's been an eventful MWC so far and yet there's more to come.
MWC 2011 overview
Nokia didn't announce new devices on Sunday

Nokia won't be announcing any new devices at the MWC. Just like last year.

Samsung unpacks the Galaxy S II and Galaxy Tab 10.1
Here go the official pics of the Samsung Galaxy S II and Tab 10.1
Here's why the Samsung's SuperAMOLED Plus displays are the next best thing
Next Galaxy Player coming, meet the Galaxy Wi-Fi 5.0
Staying connected with Bada OS 2.0: new location, social, and push services [VIDEO]
Vodafone to offer Galaxy Tab 10.1 exclusively in the UK
Does Samsung have a Tegra 2 Galaxy S II I9103 in line too?

Samsung Galaxy S II - specs • hands-on • camera samples • exclusive camera samples
Samsung S5780 Wave 578 - specs • hands-on photos
Samsung Galaxy Gio S5660 - specs • hands-on photos
Samsung Galaxy Tab 10.1 - hands-on • camera samples

Sony Ericsson announces XPERIA Play, Neo and Pro
You could be playing some of those games on the XPERIA Play, exclusive stuff, multiplayer and all [VIDEO]
Here's what all those gaming keys on the Sony Ericsson XPERIA Play do
Listen to the XPERIA Play product manager talk about the gaming phone of his life

Sony Ericsson XPERIA Play - specs • hands-on • game video
Sony Ericsson XPERIA Neo - specs • hands-on
Sony Ericsson XPERIA Pro - specs • hands-on

Official: copy-paste coming to Windows Phone 7 next month
Microsoft Rally Ball will make you wish you had a Kinect-ed Xbox and a WP7 smartphone

Microsoft has been collaborating with Nokia, but there are no new devices yet (except some internal Nokia test renders)

LG jumps the gun, announces their droid smartphones and tablet
Who would win in a fight between the LG Optimus Pad and a street fighting Steve Jobs?
LG Optimus 3D partners with YouTube for 3D video sharing
LG Optimus 3D P920 featured in a new video commercial, we get a better look at it
LG unveils the Optimus 3D, the Optimus Black and Optimus Pad
LG plans big for 2011, will present 20 new smartphones this year

LG Optimus 3D - specs • hands-on • camera samples (3D pics/video too) • 3D screen on video
LG Optimus Black - specs • hands-on • NOVA display vs. Retina vs. sAMOLED
LG Optimus Pad - hands-on (with video)

Here go Incredible S, Desire S and Wildfire S by HTC
HTC Facebook phones are here - the HTC Salsa and the ChaCha
HTC announces the 7-inch aluminum unibody Flyer tablet at the MWC

HTC Incredible S - specs • hands-on
HTC Desire S - specs • hands-on
HTC Wildfire S - specs • hands-on
HTC Salsa - specs • hands-on
HTC ChaCha - specs • hands-on
HTC Flyer - hands-on (with video)

Acer Iconia Smart has 21:9 screen, Liquid swaps the Metal for mt
Acer Iconia tablets at the MWC 2011: A for Android, W for Windows 7

Acer Iconia Smart - specs • hands-on
Acer Liquid mt - specs • hands-on
Acer Liquid mini - specs • hands-on
Acer beTouch E210 - specs • hands-on
Acer Iconia Tab A100/A101 - hands-on
Acer Iconia Tab A500/A510 - hands-on
Acer Iconia Tab W500/W501 - hands-on
Acer Iconia - hands-on (with video)

1GHz Motorola Pro headed to Europe after all, here's the scoop
The Motorola Xoom tablet comes to Europe in 3G and Wi-Fi versions

Motorola Atrix - specs • hands-on
Motorola Pro - specs • hands-on
Motorola XOOM - hands-on

BlackBerry PlayBook - hands-on

HP Pre - specs • hands-on
HP Veer - specs • hands-on
HP TouchPad - hands-on (with video)

ZTE annonces the droids Amigo and Skate at MWC 2011

ZTE Skate - specs • hands-on
ZTE Amigo - specs • hands-on
ZTE Libra - specs • hands-on
ZTE U900 - specs • hands-on
ZTE V9+ - hands-on

Huawei IDEOS X3 - hands-on
Huawei IDEOS X5 - specs • hands-on
Huawei IDEOS S7 Slim - hands-on

Sonim XP3300 Force - specs • extreme hands-on

Alcatel OT-803 - hands-on photos
Alcatel OT-807 - hands-on photos
Alcatel OT-990 - hands-on photos

Misc

MWC 2011 awards: iPhone 4 is best device, HTC - best maker
Altek Leo hands-on, 14MP camera samples, optical zoom samples and 720p video
Next Android version will infuse Gingerbread and Honeycomb
Leaked Dell 2011 roadmaps reveal tablet and smartphone lineups
v
nokia cant do anything now the markit just just go away from nokia....and caught by samsung
s
poor nokia needs to bring something totally new
m
4G hahahah whats the sense of mobile companies having a 4G network if all the phones 3G
ADVERTISEMENTS