Wear OS 2.7 (2017)
The new TicWatch Pro 4G comes with the most current version of Wear OS, which is v2.7 and was released almost two years ago. During this time Wear OS has been slowly adding features here and there, with the most recent one being Tiles - which lets you swipe between dashboard-like screens to check on fitness, the weather, and a news ticker.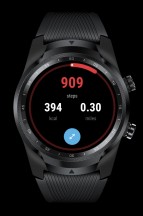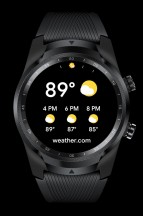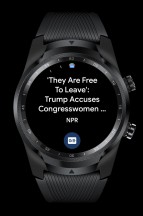 Tiles: TicHealth • Weather • Google News
Setting up the TicWatch Pro 4G is exactly as you would with any other Wear OS smartwatch. You'll have to use the Wear OS app with an Android or iOS smartphone and follow the instructions to get your Google account paired to the Watch.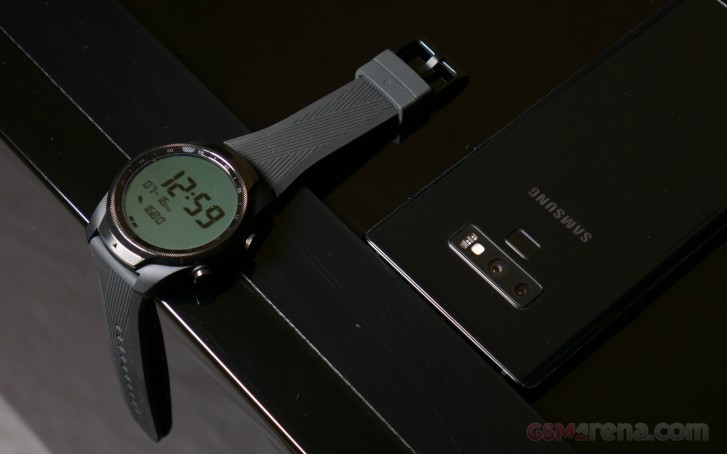 The Wear OS interface has seen a few changes since its initial launch. From the main watchface screen, swiping down shows your control panel with handy shortcuts for the settings, airplane mode, Google Pay, Theater mode, Do Not Disturb, and a shortcut to ring your misplaced smartphone.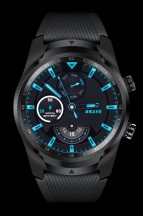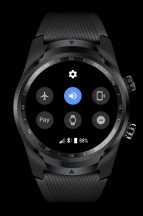 Watchface • Pull-down quick settings
Swiping from left to right shows you a Google Assistant screen with voice commands and your feed, swiping up from the bottom shows you all notifications, and swiping from right to left shows you all the enabled tiles. You are limited to five at a time.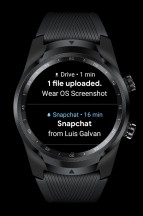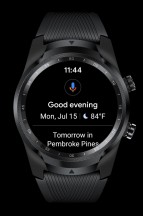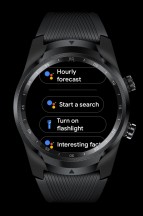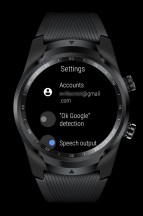 Notifications • Google Assistant
Google Assistant can also be summoned with the "Hey Google" wake word. You do have to enable it in the Assistant settings though. The easiest way to make a voice command is by holding the upper button until Google Assistant pops up.
You can change the watchface by tapping and holding anywhere on your current watchface. You can also choose a watch face from the Wear OS app or download hundreds of them from the Play Store on your smartphone.
Unique to the TicWatch Pro is Mobvoi's "Essential Mode" which uses the secondary FSTN display in an ultra-low-power mode which automatically comes on when the watch drops below 5% by default. When the AMOLED screen is off, the secondary display comes on until you wake the TicWatch back up.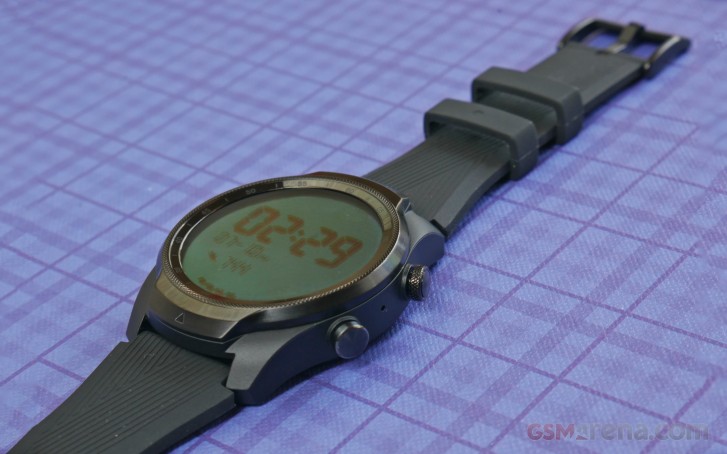 Essential Mode switches the watch to use only the low-power display and disables all connectivity and smart features. In this mode, you can only see the time, count steps, and track heart rate periodically. In this mode, the TicWatch Pro can last up to 30 days on a charge.
You have the Wear OS ecosystem of apps available by visiting the Play Store on the Watch.
It will also compare which apps are on the paired device and show you which are available for Wear OS.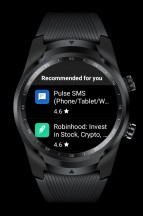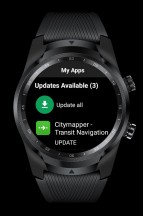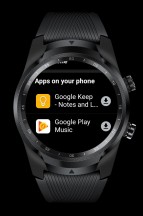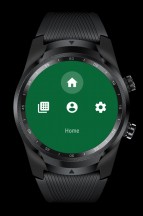 Play Store: Recommended • My Apps • Apps on Phone • Menu
You can access the app drawer by pressing the upper button - this is also how you access recent apps.
Many are companion apps that sync with the smartphone counterpart but with the 4G connection, you can stream music or respond to notifications without your phone nearby.
TicHealth
Once set up and past the tutorial, you have the option of downloading the Mobvoi app. This app is required if you plan to use TicHealth - Mobvoi's in-house fitness tracking platform. You can either sign up with Mobvoi, or sign in using a Gmail or Facebook account.
The Mobvoi app's device tab shows the activity that was recorded on your wrist with options to sync with Google Fit, RunKeeper, or Strava. We did notice that settings that relate to sharing of health and fitness data have clear and detailed explanations and are all opt-in settings so there are no surprises with your data.
There are three fitness apps in the Watch itself: TicExercise, TicHealth, and TicPulse. This, of course, in addition to the pre-loaded Google Fit app so you can decide which you want to use. Currently, the TicWatch Pro 4G does not support any kind of sleep tracking but this might be added later via an OTA update.
TicExercise is set as the default app when you press the lower side button but you can always change this. TicExercise has only six activities to choose from: Outdoor Run, Outdoor Walk, Indoor Run, Cycling, Pool Swimming, and a catch-all "Free Style" option. This is severely limited when you compare it to the list of exercises that Google Fit lets you track.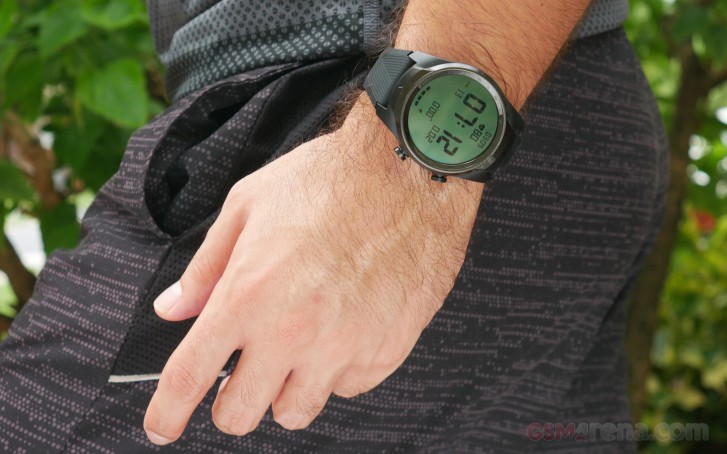 After logging a three mile run, details given by the TicHealth app include total distance, duration, calories burned, average heart rate, and average speed. There are also visual graphs showing heart rate over time, pace per mile, cadence, stride length, and a map of the activity.
One advantage with TicExercise is that it automatically detects workouts, but it will only be able to automatically track running and walking sessions. Also, only TicHealth can display activity information on the secondary display including current time, heart rate, elapsed time, distance, lap time, and battery life. Workout information isn't display here when using Google Fit.
TicHealth's dashboard view shows you circles that show progress towards your goals. There's no denying their similarity to the Apple Watch's activity rings. These circles show you active hours, and steps towards your goal.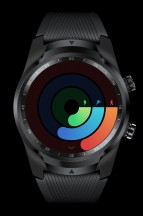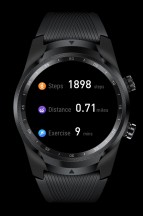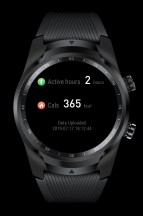 TicHealth: activity dashboard • stats
You can view the stats for each metric, which even shows you a clock that shows you how the activity was distributed throughout the day.