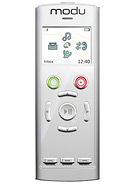 H
It's a Air con remote that also lets you call your friend to let them know that you're chilling out.
?
i just confused this so called 'PHONE' with my wii console!!!
seriously its a remote!! :-@

c
its a gr8 fone ...but the design is a dead giveaway....everythin is gr8 about dis fone, only the design has to go, cos it could have been mistaken for an aircon remote.....
k
looks like my sony xplode remote control, or my tv remote control... so very ugly phone
Total of 12 user reviews and opinions for Modu Sport jacket.