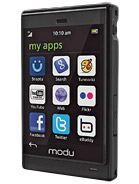 ?
A great idea, but obviously flawed in design.
Phones nowadays come with touchscreen, QWERTY keyboard, AND camera (good quality ones, mind you) in a package of comparable size to the Modu T without the 'accessories'. An average person really wouldn't want to carry around different bits and pieces to attach to the phone depending on what s/he wants at the time, right? I would much rather carry one that had everything attached...
Total of 121 user reviews and opinions for Modu T.