Introduction
Mobile gaming isn't going away any time soon. It has been growing in popularity over the last few years, thriving alongside the smartphone revolution. App stores provide an accessible and convenient distribution channel for game developers and game graphics have been increasingly becoming "console-like" with every new chipset iteration.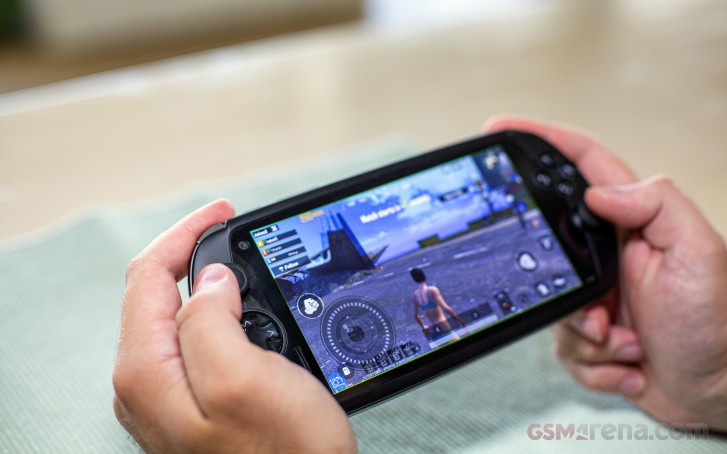 That being the case we are perplexed by the nearly total lack of dedicated mobile gaming hardware in 2019. It really is baffling when you think about it - the raw performance is there and so are the increasingly complex and engaging mobile games, yet most mobile gamers have to settle for on-screen controls and various other limitations.
Not that long ago, the mobile gaming scene was buzzing with devices. Monumentally influential products like the GameBoy, Sony PSP, Nintendo DS, and many others, all were battling for the same niche which currently seems forfeited to smartphones (save for the Nintendo Switch). And indeed, the phone you already have might be all the hardware you need to spend countless hours of enjoyable gaming.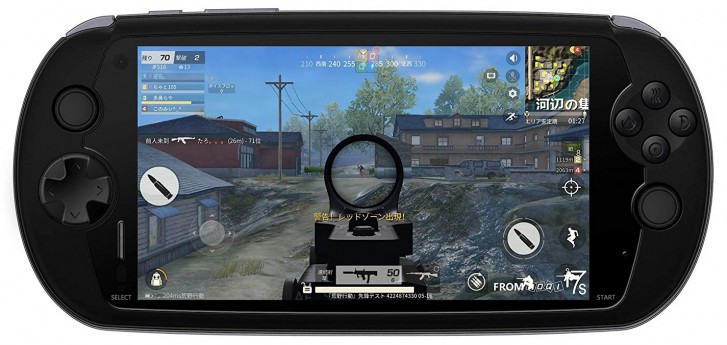 Even if that is the case, the portable gaming handheld void remains an indisputable fact. We haven't given up on the concept of physical controls and their clear benefit for gaming. Otherwise, we would all be swiping on touchscreen PS4 and Xbox controllers right now. So why doesn't anyone slap a few good buttons and a couple of analog sticks on an Android device? Is there a practical reason we are not seeing a whole ecosystem of devices like that?
These are some of the questions we approached the MOQI i7s with, since it is an exception to the rule - an Android platform wrapped inside a distinct gaming shell.
MOQI i7s
Body: Plastic, 207 x 96 x 15mm, 280 grams, removable back cover
Screen: 6.00" capacitive touch LCD display with 16:9 aspect ratio and Full HD (1920 x 1080 px) resolution; protected by Gorilla Glass 3 and a pre-applied glass screen protector
Main camera: 16MP Samsung ISOCELL Bright S5K3P9 f/2.0 aperture; 1.0 micron pixels; 1/3.1"; Phase-detection autofocus; LED flash
Front camera: 5MP OV5695, f/2.2; 1.4 micron pixels; 1/4"; Fixed focus
Video capture: 1080p @ 30fps
Chipset: Qualcomm SDM710 Snapdragon 710 (10 nm); Octa-core (2x2.2 GHz Kryo 360 Gold & 6x1.7 GHz Kryo 360 Silver) paired with Adreno 616 CPU
Memory: 6GB RAM and 64GB/128GB of internal storage; expandable via microSD (dedicated slot)
OS: Android 8.1.0 Oreo with many control mapping and input simulation added on top (MUCH UI)
Battery: 6,000 mAh lithium-polymer battery (117 grams); user replaceable; Advertised 300 hours of stand-by time and 12 hours of gaming; Quick Charge 4+ support
Connectivity:Dual Nano-SIM; LTE FDD/TDD Cat. 9 up; Bluetooth 5.0+HS; Wi-Fi 802.11 a/b/g/n/ac; GPS + AGPS
Audio: 3.5mm headphone jack (no video output), stereo rear-mounted speakers
Misc: Magnetic, gravity, light and proximity sensors, USB-C 3.1 with OTG; 2 analogue sticks, 2 shoulder triggers (not analogue), D-pad, 4 physical buttons plus 2 capacitive ones on the front
In all fairness, the MOQI i7s is not the lone survivor in the Android handheld realm. There are others, but few and very far between. But the Moqi i7s stands out in this small crowd as one of the most well-equipped and powerful Android handheld consoles currently out there. We figured that alone makes it a good starting point for our investigation into why Android portable consoles aren't a thing in 2019.
Unboxing
The very first thing we noticed about the MOQI i7s was how premium and tastefully done the packaging is. Of course, that doesn't necessarily relate to the actual product itself, but it is still a nice indication of the level of attention and RnD that went into the handheld.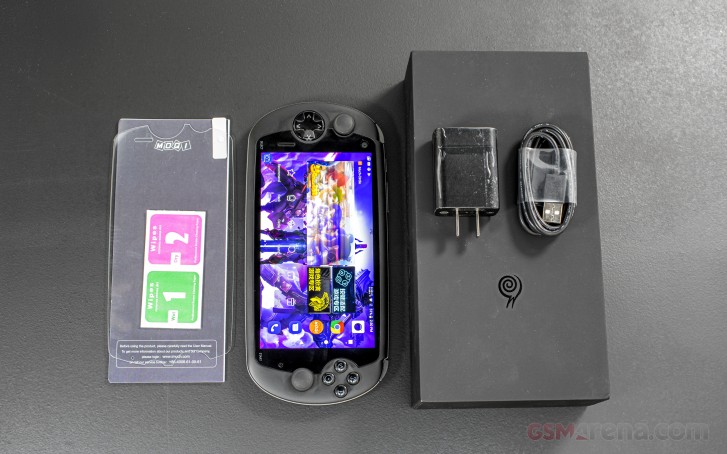 The retail package consists of the unit itself, positioned inside a snug plastic cradle (plenty of protection for the long journey from China), accompanied by a good-quality USB Type-A to Type-C data and charging cable. We were also pleased to find a charger inside. Not only that, but a slick looking and quality feeling black Quick Charge unit, perfectly capable of pumping out 18W.
Another neat little bonus thrown in the box is a second glass screen protector. Again, an appreciated addition since its shape is so irregular that you are unlikely to find a replacement. And yes, it is a second unit, since one was already pre-applied on the device - a bit poorly around the edges but still there - we appreciate these little gestures.
A case would have really made for a perfect 10/10 score in the bundle category since the handset is made entirely out of plastic and would benefit from the extra protection.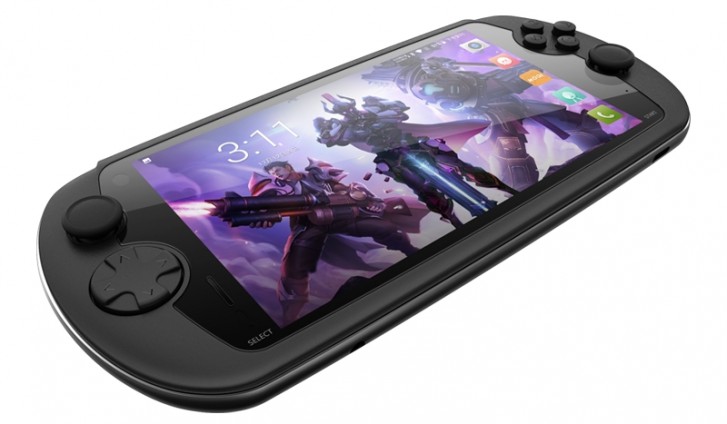 As for the tasteful styling we mentioned earlier, the box comes with a very pleasant soft-touch black coating and a single subtle snail logo. Seeing how a snail doesn't fit naturally on a gaming device, we looked into it, and it turns out that MOQI is not the brand here, but instead a device name. The company behind the MOQI i7s is Snail Digital (Suzhou Snail Digital Technology Co., Ltd.). It's a pretty reputable Chinese company that started way back in the year 2000, creating the country's first own 3D online game, then moving on to produce quite a few other games on both PC and mobile. It has a mobile carrier (Snail mobile) in its ranks and even a US branch. Long story short, that's where the cute little snail logo comes from.
w
Verizon will work fine for phone calls, mobile data, and sending texts, but receiving texts will only work if your SIM is setup for "CDMA-less" devices*. The one I used was the TCL 10 Pro, and I think my OnePlus Nord N200 5G would also trig...
b
Unfortunately this device got stuck on Android 8.1 but still all the latest games I tested runs quite well and very good for emulation.
R
What phone services can be used on this device? I tried verizon but it doesnt work. I put in the sim card and talked to a verizon representative and he also couldnt get it to work on verizon.