Display
The MOQI i7s sports a pretty beefy 6.0-inch display in a standard 16:9 aspect ratio. Besides a hefty diagonal, one of its main selling points is the 1920 x 1080 resolution. While that may not sound particularly impressive in smartphone terms, where QHD resolution is not hard to come by, it is still great compared to most portable gaming device competitors currently out there.
The popular Nintendo Switch, for instance, which we have been referencing quite a bit, has a larger 6.2 inch LCD panel, but with a resolution of 1280 x 720. That makes for a less sharp image overall. And since we are sure this comparison is going to come up at some point as well - the GPD XD 2019 revision sports a smaller 5-inch panel with the same 1280 x 720 pixel resolution.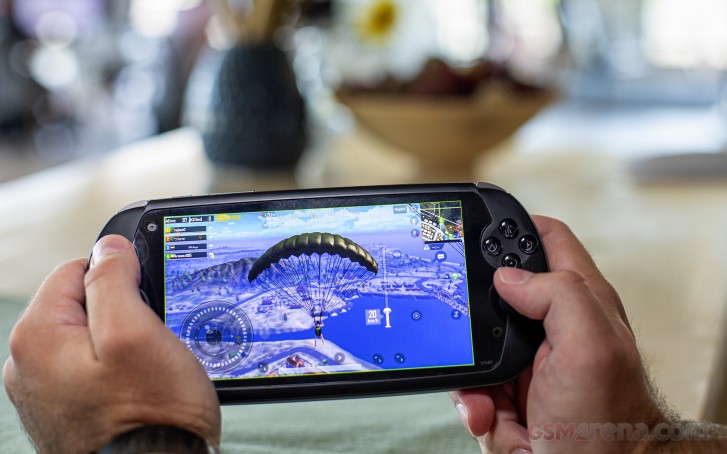 Now, to be fair, there are tangle benefits to running a lower native resolution, mostly having to do with less strain on the GPU and higher average frame rates. However, most Android games and game engines in general are very flexible and masterfully dial back and forth rendering parameters to match your device. Our point is that the MOQI i7s is powerful enough to handle FullHD and most apps are more than willing to play nice and lend a hand with internal optimization if and when the GPU strain becomes a bit too much. But more on that in the performance section.
Display test
100% brightness
Black, cd/m2
White, cd/m2
Contrast ratio
Xiaomi Mi 9T (Max Auto)
0
646
∞
Motorola Moto Z4 (Max Auto)
0
645
∞
Xiaomi Mi 9 SE (Max Auto)
0
637
∞
Xiaomi Mi 9 (Max Auto)
0
620
∞
Samsung Galaxy A70 (Max Auto)
0
607
∞
Asus ROG Phone (Max Auto)
0
542
∞
MOQI i7s
0.605
537
888
Realme 3 Pro
0.285
508
1782
Huawei Honor View 20
0.365
479
1313
Honor Play
0.414
470
1135
Asus ROG Phone
0
458
∞
Motorola Moto Z4
0
458
∞
Google Pixel 3a XL
0
451
∞
Xiaomi Mi 9T
0
449
∞
Realme X
0
448
∞
Xiaomi Mi 9 SE
0
444
∞
Oppo F11 Pro
0.316
440
1392
Xiaomi Mi 9
0
428
∞
Razer Phone 2 (Max Auto)
0.403
426
1057
Google Pixel 2 XL
0
420
∞
Samsung Galaxy A70
0
407
∞
Realme 3
0.263
385
1464
Razer Phone 2
0.401
380
948
Razer Phone
0.251
300
1195
The MOQI i7s panel might stand out in the very small crowd of portable gaming devices, but it is not really impressive in modern smartphone terms. Don't get us wrong, it's a decent LCD, no obscene air gap or horrible top surface. It is just not really impressive in any way. It does get decently bright, hitting a maximum of 538 nits, but no max-auto beyond that. A real bummer since a gaming handheld is likely to find itself outside in the sun.
Coupled with a pretty reflective surface on top of the panel (the glass screen protector isn't helping either), the MOQI i7s struggles outdoors. It's not a great experience.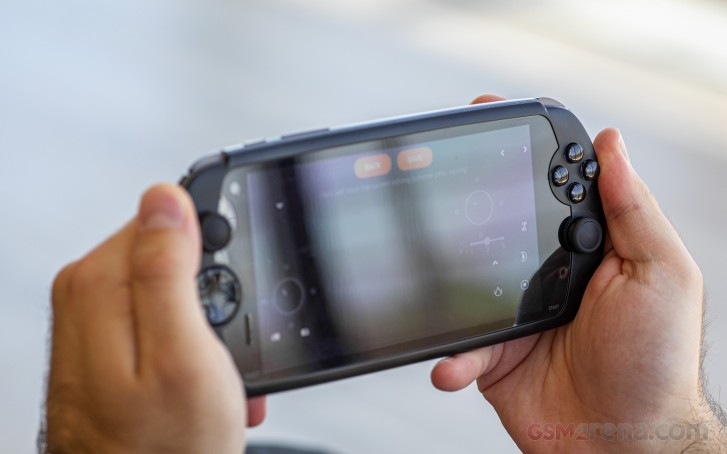 Colors are nice and vibrant, but not particularly accurate. There are a total of three display modes to choose from - beauty is what you want to use to get the nice punchy colors in games. Nature mode just dials back the entire pallet and makes everything dull. You probably want to avoid Bright mode altogether since all it seems to do is crush greys leaving only a couple of shades. There is a color temperature slider as well, but without a proper custom white point setting, it didn't really help color accuracy much.
Out of the box, we measured a pretty bad average deltaE of 11.9 and a maximum of 24.1. The cyan and blue colors, as well as purple being among the most over-saturated of the bunch. Putting on Natural mode and pushing the color slider very slightly to the cold end yields an average deltaE of 11.3 and a maximum of 19.9 and that's really the best we managed. Plus, like we already mentioned, you probably don't want to endure the dull colors this mode provides, so just put beauty mode on and learn to live with the panel.
Hardware
Circling back to the original point in this review, that Android gaming handhelds are a rarity - there might be more to add to this statement. If we have to be perfectly frank, it's the mainstream obscurity that strikes us the most. In reality, if you are willing to scour the internet and sites like Banggood, Geekbuying and Aliexpress, there is actually no shortage of gaming handhelds. Many of them running Android and even more models with custom OS and emulation software. The thing is that most of these tend to come with very low-end and often antiquated internals. More or less the bare minimum to run Android games.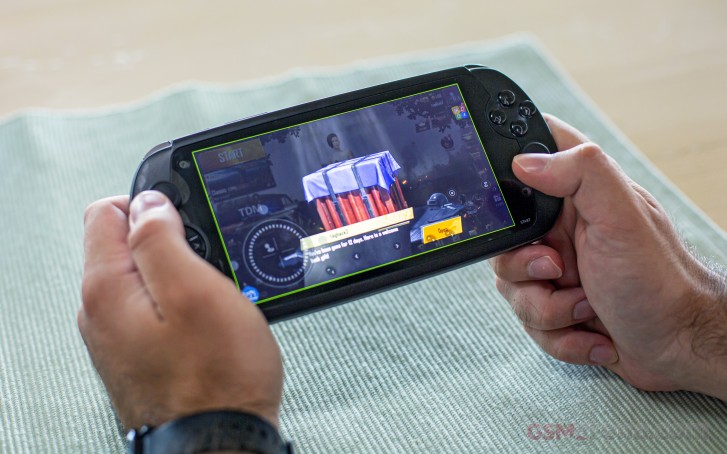 One of the things that originally caught our eye about the MOQI i7s are its pretty decent and contemporary internals. Again, this is all relative to the particular market and competitors, but a Snapdragon 710 clearly stands out among the crowd. It is bundled with 6GB of RAM and 64GB or 128GB of expandable storage. Frankly hardware that could still fit perfectly fine in a budget 2019 Android phone.
A modern chipset also means other creature-comforts like a USB Type-C port, complete with Qualcomm's 18W Quick Charge technology. Since we are already on the subject, it is kind of a bummer that neither the Type-C not the 3.5mm jack offer any support for video output. GPD seems to have this covered across most of its handheld models.
Having said all this, there is another way to look at Snail's choice of chipset of the MOQI i7s and that has to do with GPU power. While definitely no slouch, the Snapdragon 710 has an Adreno 616 GPU at its disposal. Definitely better than anything currently on offer in Qualcomm's 600 lineup of chips and an upgrade compared to the MediaTek Helio X20 and Mali-T880 inside the old MOQI i7. What about an older 800 series Snapdragon and particularly the SD835? Its Adreno 540 looks a lot more capable, at least on paper. Would the i7s perhaps been better off with this chipset? Of course, we aren't in any position to say whether such a substitution was even possible or financially sound. Still, we can entertain the idea through some synthetic benchmarks in the next section.
Benchmarks
We don't really deal with dedicated gaming devices that often, the benchmark charts will be populated with a selection of smartphones instead. Since the MOQI i7s is running on a standard Qualcomm ARM chip and Android OS, it is still an apples to apples comparison. Plus, it is probably the most relevant comparison to make seeing how most people potentially in the market for a dedicated Android gaming handheld will undoubtedly be exploring the alternative approach of a conventional and potentially cheaper smartphone paired with a good gamepad.
In any case, we decided to pick a nice and wide selection of chipsets, mainly considering the GPU as a differentiating factor. That's definitely the potential bottleneck the Snapdragon 710 might encounter with intense gaming loads, since it is pretty well-stacked on the CPU side.
GeekBench 4.1 (multi-core)
Higher is better
Xiaomi Mi 9
11181
OnePlus 7
10768
Honor Magic 2
9887
Honor View 20
9530
ASUS ROG Phone X mode (Fan on)
9406
ASUS ROG Phone
9230
Razer Phone 2
8923
Xiaomi Mi 9T
6863
Razer Phone
6728
Honor Play
6696
Xiaomi Redmi Note 7 Pro
6620
Samsung Galaxy A70
6584
Motorola Moto Z4
6515
Google Pixel 2 XL (Android 9)
6055
Oppo F11 Pro
6020
Xiaomi Mi 9 SE
6017
Realme X
5915
Realme 3 Pro
5881
MOQI i7s
5855
Samsung Galaxy S5e
5684
Google Pixel 3a XL
5176
Realme 3
4936
GeekBench 4.1 (single-core)
Higher is better
Xiaomi Mi 9
3503
OnePlus 7
3380
Honor Magic 2
3316
Honor View 20
3211
ASUS ROG Phone X mode (Fan on)
2556
Xiaomi Mi 9T
2537
ASUS ROG Phone
2514
Razer Phone 2
2424
Xiaomi Redmi Note 7 Pro
2404
Samsung Galaxy A70
2391
Motorola Moto Z4
2371
Razer Phone
1931
Xiaomi Mi 9 SE
1905
Honor Play
1899
MOQI i7s
1859
Google Pixel 2 XL (Android 9)
1807
Samsung Galaxy S5e
1631
Google Pixel 3a XL
1615
Oppo F11 Pro
1560
Realme 3
1482
Realme X
1475
Realme 3 Pro
1471
Two + six cores (2.2 GHz Kryo 360 Gold - Cortex-A75 derivative + 1.7 GHz Kryo 360 Silver - Cortex-A55 derivative) are more then plenty to keep up with modern workloads, be it gaming or productivity. This setup is pretty much on par with the one inside the Snapdragon 670 and SD675.
Basemark OS 2.0
Higher is better
Xiaomi Mi 9
5346
ASUS ROG Phone X mode (Fan on)
4702
ASUS ROG Phone
4614
Honor View 20
4281
Razer Phone 2
4163
Honor Magic 2
4106
Razer Phone
3492
Google Pixel 3a XL
3328
Honor Play
3294
Google Pixel 2 XL (Android 9)
3293
Xiaomi Mi 9T
3102
Motorola Moto Z4
2975
MOQI i7s
2778
Realme X
2748
Samsung Galaxy A70
2737
Realme 3 Pro
2648
Oppo F11 Pro
2232
Realme 3
2020
The SD710 inside the MOQI i7s performs as expected and offers no surprises in terms of general productivity. So, let's move on to the more exciting GPU showdown. Going through the opponents we picked, we have the Qualcomm 712, which sports the exact same Adreno 616 GPU as the SD 710 and right above it the SD730, with its Adreno 618. In the 600 series - the SD670 is rocking an Adreno 615, while the SD675, oddly enough has an Adreno 612. And on the flagship side - the Snapdragon 835 - Adreno 540, SD845 - Adreno 630 and SD855 - Adreno 640. We also threw in the Kirin 980 with its Mali-G75 MP10 and the Kirin 970 with a Mali-G72 MP12. For good measure, the MediaTek Helio P70 is also on the chart, with just three of the same Mali-G72 cores at its disposal.
AnTuTu 7
Higher is better
Xiaomi Mi 9
372006
OnePlus 7
365085
ASUS ROG Phone
290975
ASUS ROG Phone X mode (Fan on)
288821
Razer Phone 2
285051
Honor View 20
275413
Honor Magic 2
274466
Xiaomi Mi 9T
211915
Google Pixel 2 XL (Android 9)
206711
Honor Play
204876
Razer Phone
190271
Xiaomi Redmi Note 7 Pro
180754
Xiaomi Mi 9 SE
180057
Motorola Moto Z4
173234
MOQI i7s
169232
Samsung Galaxy A70
167750
Google Pixel 3a XL
159110
Realme 3 Pro
155647
Samsung Galaxy S5e
152610
Oppo F11 Pro
150218
Realme 3
132764
Mind you, the devices we have picked to represent their respective chipsets vary in display and hence rendering resolution. So the off-screen performance tests are the ones to take into account here. Plus, you would be hard-pressed to even find a standard 16:9 FullHD phone nowadays, with the ongoing ultra-wide trend, making any on-screen comparison even more irrelevant.
GFX 3.1 Manhattan (onscreen)
Higher is better
OnePlus 7
57
Xiaomi Mi 9
56
ASUS ROG Phone
54
ASUS ROG Phone X mode (Fan on)
54
Honor View 20
50
Honor Magic 2
45
Honor Play
36
Razer Phone 2
33
Realme 3
26
Xiaomi Mi 9T
24
Xiaomi Mi 9 SE
24
MOQI i7s
24
Razer Phone
22
Realme 3 Pro
20
Google Pixel 3a XL
19
Google Pixel 2 XL (Android 9)
15
Xiaomi Redmi Note 7 Pro
15
Motorola Moto Z4
14
Samsung Galaxy A70
13
Oppo F11 Pro
12
Samsung Galaxy S5e
11
GFX 3.1 Manhattan (1080p offscreen)
Higher is better
Xiaomi Mi 9
70
OnePlus 7
67
ASUS ROG Phone
60
ASUS ROG Phone X mode (Fan on)
60
Honor View 20
53
Honor Magic 2
53
Razer Phone 2
51
Razer Phone
42
Honor Play
39
Google Pixel 2 XL (Android 9)
30
Xiaomi Mi 9T
27
Xiaomi Mi 9 SE
26
Realme 3 Pro
23
MOQI i7s
23
Samsung Galaxy S5e
20
Google Pixel 3a XL
20
Xiaomi Redmi Note 7 Pro
17
Samsung Galaxy A70
15
Motorola Moto Z4
15
Oppo F11 Pro
14
Realme 3
13
That is actually a good point to make in favour of the MOQI i7s. As far as gaming is concerned, a standard 16:9 aspect is really the best way to go. You are not running the risk of bad compatibility, artifacting and performance issues on unoptimized or older titles. Plus, no extra load on the GPU to draw more pixels. If you are planning to play a lot of emulators, you are likely to even end up with a 4:3 window, since that is native for most older systems. All things considered, the standard aspect ratio of the panel gets a resounding nod from us.
Aztek Vulkan Normal (1080p offscreen)
Higher is better
OnePlus 7
41
Xiaomi Mi 9
41
ASUS ROG Phone
36
ASUS ROG Phone X mode (Fan on)
35
Razer Phone 2
33
Honor View 20
29
Honor Magic 2
25
MOQI i7s
13
Samsung Galaxy S5e
11
Google Pixel 3a XL
11
Xiaomi Redmi Note 7 Pro
9
Oppo F11 Pro
8.4
Motorola Moto Z4
8.2
Aztek OpenGL ES 3.1 Normal (1080p offscreen)
Higher is better
Xiaomi Mi 9
43
OnePlus 7
41
ASUS ROG Phone
38
Razer Phone 2
37
ASUS ROG Phone X mode (Fan on)
37
Honor View 20
30
Honor Magic 2
30
MOQI i7s
14
Samsung Galaxy S5e
12
Google Pixel 3a XL
12
Xiaomi Redmi Note 7 Pro
9.8
Samsung Galaxy A70
9.1
Motorola Moto Z4
9.1
Oppo F11 Pro
8.7
To be clear though, looking at the synthetic benchmark numbers it is pretty obvious that the Adreno 616 is hardly a powerhouse. We are happy to see it perform just right and within expected margins on the MOQI i7s, alleviating any worries we originally had about poor software optimization from Snail.
What you get is a GPU that easily outpaces the typical MediaTek chips, found in other obscure Android gaming handhelds out there. That being said, if you are after the best possible performance for money Android gaming platform, the Snapdragon 710 can easily be trumped by slightly older flagship silicon.
Basemark X
Higher is better
ASUS ROG Phone X mode (Fan on)
60171
ASUS ROG Phone
59072
Razer Phone 2
54750
Razer Phone
51455
Xiaomi Mi 9
45089
Honor Magic 2
43562
Honor View 20
43537
Google Pixel 2 XL (Android 9)
39372
Honor Play
32238
Xiaomi Mi 9T
31318
MOQI i7s
28671
Realme X
28416
Realme 3 Pro
27031
Google Pixel 3a XL
25962
Motorola Moto Z4
21197
Samsung Galaxy A70
19341
Realme 3
19157
Oppo F11 Pro
16838
The older Kirin 970, for instance, as found in the Honor Play does roughly 50% to 60% better in GPU tests, with its 12 Mali-G72 cores. And then there is the Snapdragon 835, which can practically pump out twice the number of frames in certain scenarios. Both of these can now be had for a bargain due to their age - a lot more irrelevant of a consideration on a dedicated gaming device, which doesn't necessarily need extra goodies like the latest connectivity options.
3DMark SSE 3.1 Unlimited
Higher is better
OnePlus 7
6058
Xiaomi Mi 9
5816
ASUS ROG Phone
4875
Honor Magic 2
3599
Google Pixel 2 XL (Android 9)
3237
Honor View 20
3025
Xiaomi Mi 9T
2329
Xiaomi Mi 9 SE
2218
Honor Play
2206
MOQI i7s
1986
Google Pixel 3a XL
1748
Samsung Galaxy S5e
1723
Oppo F11 Pro
1275
Xiaomi Redmi Note 7 Pro
1220
Realme 3
1189
Samsung Galaxy A70
1112
Motorola Moto Z4
1044
So, in short, do we think that the MOQI i7s would have been better off overall with a Snapdragon 835, rather than a Snapdragon 710? Well, yes, probably so. But again, we can't really be sure that was even an option to consider on Snail's part. Plus, synthetics are fine and dandy, but what really matters is how well the i7s handles actual gaming loads, like the ones you would throw at it. Join us on the next page as we sample a nice selection of native Android titles and emulators to really test the i7s' gaming pedigree.