Software
The MOQI i7s ships with an Android 8.1 ROM. It is both surprisingly vanilla in many aspects and chock-full of pretty custom features here and there. Quite an intriguing mix.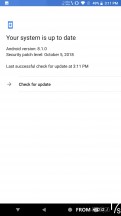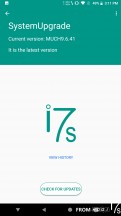 Two separate update interfaces
It appears that Snail has done a decent job of "implanting" its customizations into AOSP all under the MOCH moniker. That ships in a package of its own, with an updater of its own. Unfortunately, that does leave you with two separate update interfaces that you need to check from time to time. Realistically, however, we wouldn't expect many system updates, considering the obscurity of the product. That does mean you will likely be stuck on a Google security patch from October 2018. But since the i7s isn't meant to be your primary smartphone housing all your most sensitive info, perhaps it doesn't matter all that much?
Anyway, you could also root the i7s and attempt to patch it yourself. Snail appears quite responsive when it comes to such matters. A good thing too, since depending on the retail channel you acquire the i7s from it might not come with Google Play services installed at all.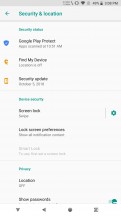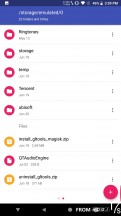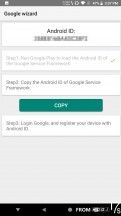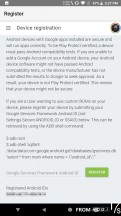 Security isn't really up to date • Google Play services install packages • Google device registration
Thankfully, getting around that is quite easy. If you find yourself in this situation, look inside the root storage folder. You should find two archive packages about Google services. If those happen to be missing, contact Snail support to get them. After that, you need to boot into recovery and use the included Magisk to flash one of the two packages. If you don't need Google Play services and access to the Play store, flashing the uninstall package is a great way to save battery and remove what is essentially bloat in your use case.
There is one final step to the Google-install process. This one needs to be done even if your i7s came with Play Services pre-installed. Since the i7s' ROM does not pass current Google security certification, you need to manually register an exception in your account for this particular device. This will give you access to some apps and games that require elevated security. In order to do so, Moqi has an extremely streamlined Google wizard app. That being said, most games will install and run just fine without going through these extra steps. Just keep them in mind in case you find yourself unable to find or set up a particular app.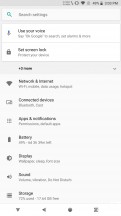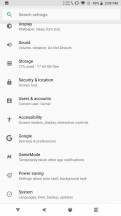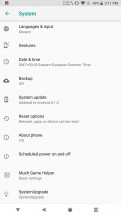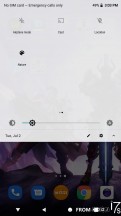 Settings screen • Settings screen • Settings screen • Notification shade
On the surface the MOQI Android ROM has a pretty vanilla look. All the custom bits just seem pretty well and seamlessly woven into the core OS. For instance, the on-screen navigation bar is custom, featuring a re-positionable back button, as well as a quick shortcut to the MOQI helper app - a veritable gaming hub, which we will describe in more detail in a bit.
A couple of floating icons (one for screenshots and one for the same MOQI helper) are also clearly not AOSP, along with their corresponding toggles and settings menus. The screenshot functionality seems to be completely re-written to include things like a watermark with custom position and color. Unfortunately, we didn't find a way to remove the watermark completely, which is why it is present on all the screenshots.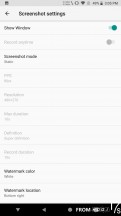 Entirely custom screenshot interface
Like we already mentioned MOQI tweaked quite a few aspects of default Android behavior for a better gaming experience. By better, we mostly mean distraction-free. By default, any app that gets installed is barred from pretty much all extra privileges. No background running allowed, no autostart, no notifications, not even the notification LED can be accessed freely. The Google Play store even shows an Enable button first after install, which you have to press before you can launch an app or game.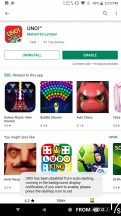 Apps get installed in a very locked-down state by default
While this behavior is great for games and emulators, it is not ideal for things like messengers and social network, which rely on background activity and notifications. In case you feel like running some of those, the Battery saver menu offers a per-app white list for all of the disabled functionality.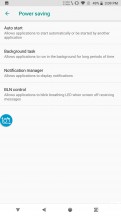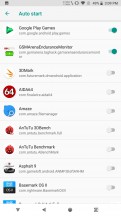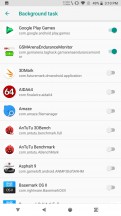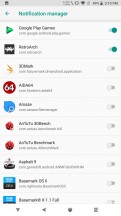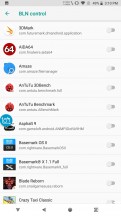 Battery saver features on a per-app basis
Snail even thought a step further. If you do allow certain apps to push notifications at will, but would still prefer a focused gaming experience, just add your games into the GameMode list, which will suppress all notifications at launch. Neat!
To be fair, though, GameMode does sound a bit confusing at first, since it potentially suggests some performance optimization as well. Unfortunately, confusing titles, options, and texts are a common sight in the MOQI launcher. Most of the issues seem to stem from poor translation. Hopefully, most of these get cleared up soon since currently, specific in-depth settings have an additional learning curve only due to the language barrier.
Much Game Helper
Speaking of additional features, it's about time we finally got to these, since they actually represent a huge added value and truly make having the hardware gaming controls worthwhile. Thankfully all the really neat and important features are contained within a single app - the Much Game Helper. The first thing to check regarding the helper is the system settings menu, simply to decide how you want to integrate the helper into the OS. The floating icon is pretty convenient if you don't find it distracting.
We probably won't be able to cover all the options the Much Game Helper offers, since there are some in-depth and advanced things, like a selection of analog stick behavior types for on-screen control emulation. But, as far as the basics go, there are a few important bits. Depending on the game you are playing, some will make more sense than others. In titles with native gamepad support things typically just work as far as basic mapping. What you can do to further is define to key macros and combos and tie them to a particular button.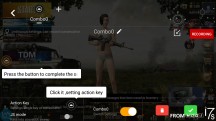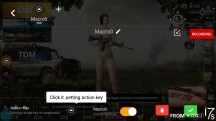 Setting up: Key combos • Key macros
Then there are games with on-screen only control schemes. This is where the MOQI mapping really shines. To be clear, we've seen similar implementations before, like on the Asus ROG Phone. Still, what Snail has in place on the MOQI i7s is nothing short of impressive in versatility and depth. Every button and both analog sticks can be mapped and its all done with a simple drag and drop, followed by a physical button press or size adjustment for the analogs.
The analog stick emulation, in particular, comes with ludicrous amounts of fine tweaking and a trio of emulation modes. Once you set everything up just the way you want it, it gets saved into what Snail calls an Adapter Scheme. You can have multiple of these for every title and switch them quickly on the fly.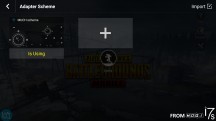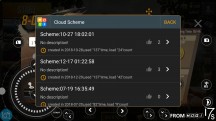 Adapter schemes: local • cloud
But perhaps the most impressive bit of it all is the MOQI cloud repository for mapping schemes. We didn't think much of it at first, but it is kind of magic. So much so that for most of the touch-input games we launched on the i7s mapping physical controls came down to pressing allow on a prompt that tells you MOQI wants to analyze the current game's control scheme (color us impressed!). A few seconds later things just start to work! No joke. And if you don't find the particular map to your liking, the chances are that a quick pop into the Cloud Schemes menu in the hovering MOQI Helper UI can yield at least a few working and slightly different schemes.
Does the whole things look crude and in desperate need of some UI polish? Yes, very much so. Dare we say it is the most impressive, versatile, and powerful control mapping interface we have seen on an Android device to date? That would also be a resounding yes!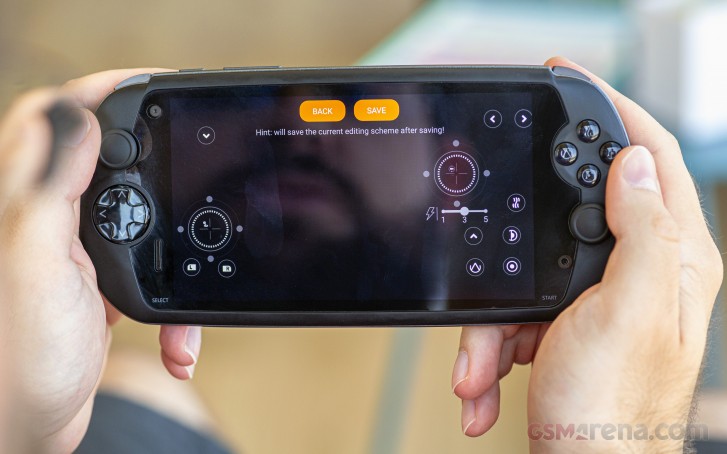 the only issue we have with the whole system Snail has in place is the steep initial learning curve it requires. Thankfully, there is a MOQI help app that does a relatively decent job of explaining everything. Sure, the level of English isn't amazing here either, but with enough perseverance, the payout is worth it.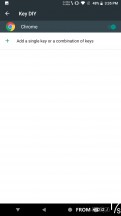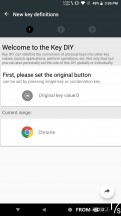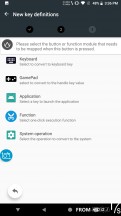 KEY DIY is a great addition to the Adapter schemes
In fact, reading carefully through these help texts is the only reason we now know about the KEY DIY feature, which is also pretty awesome, particularly for DOS game emulation, in our case. What it allows you to accomplish is map any of the existing physical controls on the MOQI i7s to a different physical control instead of an on-screen one. This might sound confusing, but the simplest example we can give is to have one of the four main buttons simulate pressing the control key on a typical keyboard as if the latter were plugged into the device. Our DOSBox emulator of choice then simply picks this up as a native keyboard key press and passes it on to the game, which makes Commander Keen shoot without ever going near any confusing .bat mapping scripts. If this sounds familiar to you, then you already understand what a godsend KEY DIY is.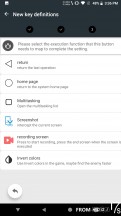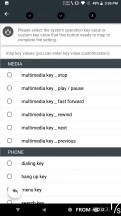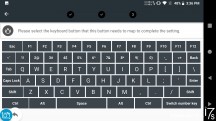 KEY DIY is amazingly versatile
Better still, KEY DIY operates on a per-app basis, so you don't have to worry about navigating the regular Android UI once you remap all of your keys to numpad codes for Mortal Kombat.