We came across a couple of iPhone designs which we haven't seen before. The first appears to be made out of plastic and closely resembles the popular iPod Touch. It will allegedly be the rumored cheaper new iPhone. It also appears to have a slightly smaller screen than the current 4" Retina on the iPhone 5.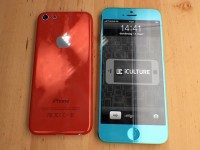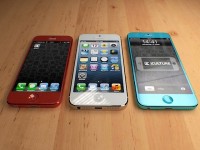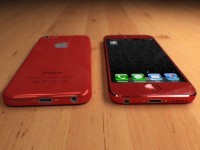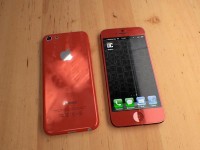 iPhone 5S and cheaper new iPhone
The second device is the more interesting one and is slated as the iPhone 5S (or maybe even iPhone 6). It's larger than the current iPhone 5 and sports a bigger, almost bezel-less screen with sloping edges. It sports a rather strange-looking cyan color and the front appears to be entirely made of glass. The back, like on the smaller device, looks to be plastic as well.
The images aren't of the best quality so the material used on the concept phones could be something other than plastic, like glossy aluminum. The edges around the screen look to be precision cut - just like on the iPhone 5.
We urge you to take these images with a pinch of salt as they can prove to be nothing more than clever renders. That being said, there is always the possibility that what we're seeing are prototypes that Apple's working on prior to launching the final hardware.
This is not the first time we've seen an alleged iPhone render-slash-concept and these are likely to start popping up even more with the summer just around the corner.
D
So I guess you have more money than sense.
A
I want a cheap iPhone, no more than € 400! I owned 2 iPhones (now iPhone 4), but I will not spend € 700 for iPhone 5, better an Windows Phone. So Apple, think about it to not losing your clients!
D
enough of battles and arguments of what phone/company is the best... =) each phone is unique and each phone has it's own pros and cons..specific phone for a specific user.. samsung release galaxy S4 same w/ sony w/ their Z and HTC w/ their ONE good f...
ADVERTISEMENTS