Even more details have become known on the upcoming Nokia Ace (Lumia 900) for AT&T Wireless - less than a week after we came across leaked photos of the smartphone tucked into a Christmas card.
This time, the specs of the upcoming Finnish flagship are almost fully revealed along with a mockup photo, based on the leaked images from a couple of days ago.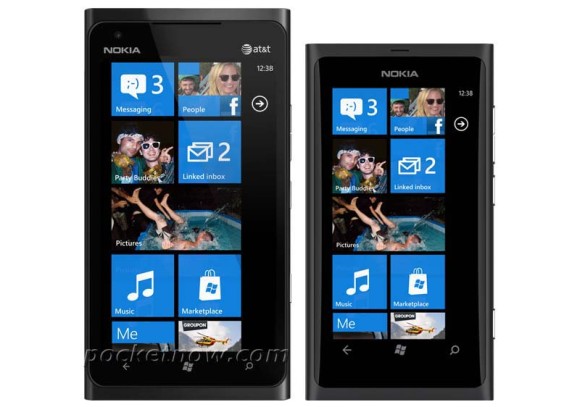 The Nokia Ace will indeed be sold globally as Lumia 900. The smartphone will pack a 1.4GHz Scorpion CPU and 512MB of RAM. The display of the handset is expected to be in the 4.3" vicinity, while the battery is rumored to have 1830mAh capacity. The phone is also expected to pack T-Mobile's 1700 MHz 3G band. It will be sold locked for AT&T though.
The Nokia Ace will weigh 160 grams, while having similar thickness as the Lumia 800 at 12mm.
The Windows Phone Mango running Nokia flagship is expected to hit the shelves at some point in March. Rumor has it that it will be unveiled at CES next week, along with another mid-range Nokia smartphone, featuring Microsoft's OS (Lumia 719).
As you probably know already, we will be covering live from Las Vegas, so expect a timely update on the Nokia Ace as soon as we get the full scoop.
D
Before releasing their product,Nokia needs to think twice about customers friendliness....replaceable battery, memory card slot, video call camera and bigger screen with higher pixels resolution for Lumia 900/719. Coz, only customers can help...
A
Oi hang on, WP7 phones need to be 4.0" or bigger (even up to 4.3") so that those of us who dont have children sized fingers can use the onscreen keyboard. The iPhone likewise is too small. However I do get that screen size can be too big, l...
?
You do know that the Optimus 2X lag was due to LG's implementation correct? LG isn't considered a high end phone maker, in fact their track record is almost as bad as Nokia, they take forever to release updates, and when they do release updates, it c...
ADVERTISEMENTS