A few hours ago a photo of the Meizu MX4 Pro leaked and now it has been followed by a few more. Interestingly one of the photos shows the YunOS boot screen and not Flyme. Both are custom versions of Android but while Flyme is developed in-house Meizu, YunOS 3.0 (aka AliyunOS) is developed by etail giant Alibaba.
Despite the Pro moniker, the MX4 Pro has almost exactly the same specs as its official twin, it's not even bigger. It has a 5.36" screen with 2,560 x 1,536 pixel resolution (a hair above QHD) and a 20.7MP Sony camera. The main difference besides the OS is the chipset – an Exynos 5430 by Samsung, replacing the MediaTek chipset.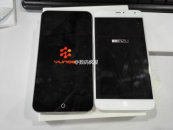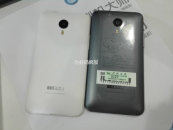 Meizu MX4 Pro • comparison with the Meizu MX4 • invitation for YunOS 3.0 event
The MediaTek chipset is more powerful on paper – it has four Cortex-A17 cores at 2.2GHz and four Cortex-A7 cores at 1.7GHz, while the Exynos 5430 has four Cortex-A15 cores at 1.8GHz and four Cortex-A7 cores at 1.3GHz. Both MX4s will have 3GB RAM according to the latest rumors (despite what we heard earlier).
Note that earlier on a dual-SIM Meizu MX4 Mini leaked and it was showing YunOS as well, but was powered by a MediaTek chipset (a lower-end version though). There was even an MX4 running Ubuntu Touch.
There's a YunOS 3.0 event scheduled for October 20 (which itself is not official yet) so we might see a joint announcement of the new OS and flagship device to go with it.
L
So who are we talking about :(
B
Ha, the circle button is back! Good! The previous shots had a rectangular design and did not look very good. If they get the finish quality to be significantly better than the regular MX4 and if the fingerprint sensor works as well as Apple...