More photos of the Pixel 3 XL leak in white with mint-colored power key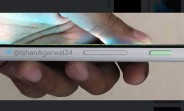 Google's Pixel 3 XL was this year's worst kept secret. A few weeks ago, a man was selling production Pixel 3 XL devices on the black market, far ahead of the phone's official launch, so we've already got a good look at the huge notch, the big chin, and the refined glass-window design on the back.
Today, the Pixel 3 XL poses for a few more high-resolution photos thanks to @IshanAgarwal24 on Twitter. This is the while model, which we see had the green mint-colored accent key on the power button. Likewise, we again see the massive size of the notch at the top of the display and the rather large chin at the bottom.
These are the both sides of the phone. The Power button is Mint coloured. Will be leaking the impressive Front Camera details along with other specs and features soon!#Google#GooglePixel3 #Pixel3XL#Pixel3 pic.twitter.com/x8TgH4E0x8

— Ishan Agarwal (@IshanAgarwal24) September 21, 2018
Also, according to IshanAgarwal24, the SIM tray has relocated to the bottom of the device. There are also a couple of screen grabs of the redesigned Camera UI and the refined Google Assistant prompt.
The Twitter user also confirms that there is no 60fps recording for 4K res-video. Of course, this isn't final retail software so there's a small chance it may be included at launch or even added in a future OTA update.
Uploaded some Hi-Res Screenshots given by the source to me. This is the new UI of the Google Camera App and Google Assistant UI. There are two front cameras, both 8MP. One with Auto Focus and f/1.8 aperture. Other ultra wide angle with FF and f/2.2.https://t.co/Kh212PviUz pic.twitter.com/MfCcTvW2ph

— Ishan Agarwal (@IshanAgarwal24) September 21, 2018
Also according to the leaker, there is no way to "hide" the notch by making the left and right side of the notch go dark. Virtually every other manufacturer has allowed this (well, except Apple, really) for those who'd rather not have a notch obstruct the symmetry of the device. We're so tired of making this argument but the notch is really a thing and we're going to have to live with it.
In any case, the official product launch will take place in NYC on October 9 where we'll find out everything about the Pixel 3, Pixel 3Xl, and whatever else Google announces.
?
Why dont u say "recently i love oled and curved screen" ? Anyway.. my chinese phone can glow in the dark and have stronger usb port without fugly notch
?
I see apples sales going up if this is the design