News about the HTC Touch HD2 are a bit like the mythical Hydra - write one and two more crop up. this time however we have the full device specs. They come from an unofficial source, but they seem pretty credible.
The timing of this leak gots us quite intrigued - Windows Mobile 6.5 is just around the corner, expected to come out tomorrow along with a suite of devices of various makes and market tiers that ship with it. In fact, as users report, the Windows Marketplace mobile application store is already live, a day earlier than planned. Just for v6.5 for now, but a 6.1 version should also be coming along.
Anyway, it's possible that along with the official release of WinMo 6.5 the Touch HD2 will finally be announced officially - that would be a healthy boost to the promotion of both.
So here are the most interesting specs for the HTC Touch HD2:
General: GSM 850/900/1800/1900 MHz, UMTS 900/2100 MHz, EDGE class 12, HSDPA, 7.2 Mbps; HSUPA, 2 Mbps
Display: 4.3" capacitive touchscreen, 480x800 pixels, up to 65K colors
Platform: 1GHz Qualcomm MSM 8250 CPU
OS: Windows Mobile 6.5 Professional
Memory: 200MB storage, 320MB RAM, 512MB ROM, microSD card slot
Camera: 5-megapixel autofocus camera, dual-LED flash
Connectivity: Bluetooth 2.1, Wi-Fi 802.11 b/g, built-in A-GPS and digital compass, microUSB 2.0, 3.5 mm audio jack
Misc: FM radio, accelerometer, ambient light sensor, proximity sensor
Battery: 1230mAh battery
There are some more interesting bits and pieces in the HTC Touch HD2 specs - CoPilot/Papago navigation software, a possible "Cinema mode Key" and 3G to Wi-Fi software router. The question how long the battery will hold up with all those power-sucking gadgets remains.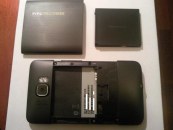 Some more shots of the HTC Touch HD2
Another thing that's interesting is the mentions of Windows Mobile 7. While WinMo 6.5 is an update of 6.1, while ver. 7 should be a more thorough rewrite and compatibility with the hardware is uncertain. The Touch HD2 is listed as Windows Mobile 7 future-proof. Anyway, we'll find out the details when more info on WinMo 7 comes out, but if the two OSes will coexist (which allegedly the current plan), upgrade paths from 6.5 to 7 might get messy.
s
what r u talking about?, HTC make millions of phones that "melt" in your words. No one else has this problem but you? What does that tell any person with half a brain? Either you are completely out of your mind or you are making this crap up or you r...
b
...why did nobody speak about SPB?? like the most important windows based interface...no mention...will it be compatible with this phone? i like this phone..ill probably get it...but without spb im surely gonna wait for something else.
?
Maybe you should've not done over clocking on it? It melted due to misuse, it's such a shame to see people like you holding a PDA.
ADVERTISEMENTS