We greeted the New Year with fanfare and it's time for a recap of the one we sent off. And because we're all about order, we'll do it chronologically, starting with the most interesting stories from the first quarter of 2015.
The top-read article, by a long stretch, was the market launch of the Yu Yureka. Micromax' subsidiary was a prominent player throughout the year, but it was precisely the Yureka that started it all.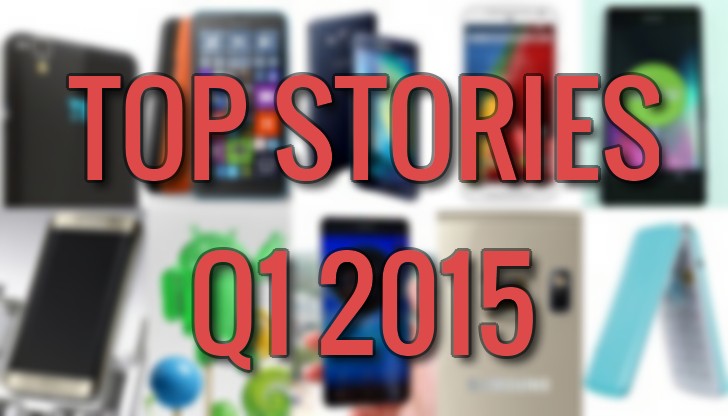 A distant second in terms of hits, the announcement of the Lumia 640 and 640XL at MWC was another hot topic. A whole bunch of Samsung Galaxies was unveiled on January 6, and also made for a top-three story.
You were curious to read about Tizen's compatibility with Android apps on the Samsung Z1, and that even topped the announcement of the company's flagship pair Galaxy S6 and S6 edge. Lollipop updates were eagerly anticipated and the Android 5.0 firmware for Motorola's original Moto G accumulated the most hits, with a subsequent 5.1 release also making the chart.
The promise for a bezel-less Oppo R7 was another interesting read, and even though in the end it turned out little like the initial leaks, the smartphone, and the entire family it ushered in, proved to be solid performers. Meanwhile, the Xiaomi Redmi 2 netted half a million hits in just its top two articles, and there were quite a few more stories around it.
A chart topper in the bang-for-buck category, the Asus Zenfone 2 was announced at CES in January alongside the Zenfone Zoom. A smartphone with 4GB of RAM for $200 was sure to entice readers though it did turn out that the two numbers didn't come in a single device.
An LG clamshell, what year is it? That's what you thought, apparently, and clicked to find out more. And then a Lenovo leak from February revealed most of the company's lineup for the year, with devices gradually getting official the following months.
Wrapping up this improvised top 20 list is the article with the Galaxy S6's camera samples. It was an incessant stream of contradictory leaks regarding sensor manufacturer and megapixel count and you were curious to find out what Samsung did eventually.
?
Happy to see there is at least 1 news piece about a flip phone, GSMarean, can you write an article or 2 about non-smartphones? i find them more exciting than anything in the market, at least they look different.
s
samsung z1 the worst one.. Microsoft u did very well....
?
Top story, apple embezzeling the Italian tax system ?