Scratching your head as to why Android is growing at such a rapid pace? It could very well have to do with the average cost of a brand new Android handset. A new study shows that a brand new Droid will, in more cases than not, run your under $200, a pretty attractive price point for a shiny new phone.
A recent report published by IDC reveals that 58.6% of all Android phones cost less than $200, which is why they are doing so well in emerging and low-end markets. Manufacturers like Xiaomi, Huawei, and Lenovo are responsible for the recent boom in low-priced droids that are finding themselves in the hands of so many customers lately. Of course, the markets these companies are serving are much different than Europe and North America, where top specíd phones rule the roost.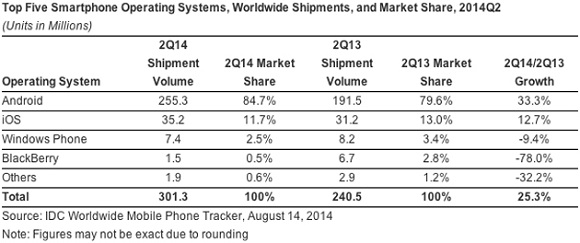 The report also provides an explanation as to why iPhone and Windows Phone market shares have decreased, now at 11.7% and 2.5% respectively, as compared to Android, which is running strong at 84.7%, a formidable figure. These numbers donít tell the entire story, however, as Apple doesnít even offer a phone that costs less than $200, and the Cupertino-based tech giantís profits are still very strong, despite not having plans to release cheap iPhones in the future.
There are, however, a slew of sub-$200 Windows Phones on the horizon, so it looks like Android will see some competition in this space in the future. Itíll be interesting to see what the market share landscape is like in a quarter or two, and if consumers in the lower-end markets respond well to Windows Phone handsets.
?
NOPE. I live in central europe, and not everyone uses Android (I do). Many people use iPhones, and a bit less use Windows Phones. Its just unbelievable, because iPhones already have a bad price/value, but its even more expensive (around +50%) here, b...
D
If they don't adapt they won't stay in the competition. It's a lesson they still don't learn from. Maybe if they remove their pride from their a** they won't be loosing so much.
D
Yeah. Brands like Xiaomi sell you an octacore mediatek or a quadcore snapdragon 400 for less than $200 and which is why some Samsung customers upgrade to other brands instead of their higher spec phones. I like those alternative brands, it makes othe...