Moto C2 gets certified by ANATEL as the Android One phone nears launch
The Moto C2 and Moto C2 Plus have been certified by ANATEL, the Brazilian wireless authority. Motorola has a strong presence in Brazil as it has a local factory and is not subject to the steep import duties.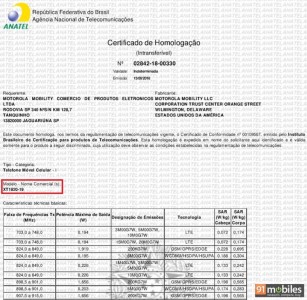 Moto C2 gets certified by ANATEL
According to info from the documents the Moto C2 will measure 147.9 x 71.2mm. It will be a single or dual SIM phone with LTE. The SKUs aimed at Latin America, Europe, Asia and the Middle East will lack NFC. The battery capacity is listed at 2,120mAh.
The C2 will have just 1GB of RAM and 16GB storage – which suggests that we're looking at a pair of Android Go phones. In fact, the whole thing looks like a version (if not a 1:1 copy) of the Moto E5 Play Go.
There are no concrete rumors about when the second generation C-series Moto phones will launch, but with certificates from the relevant wireless authorities in the bag, it can't be long now.
L
No matter what year 1gb ram still relevant on the entry level(lowest) phone. Android Go is lite android. It can handle simple task easily. Not for heavy usage. Even smartwatch use 512/768mb ram only. No brand tablet also still use 1gb ram in 2018.
ADVERTISEMENTS