The Moto G was released last November, but it looks like there's already a successor for it on the way. An image allegedly showing the next Moto G (which we'll call G2 for simplicity's sake, even though the official name hasn't been confirmed yet) popped up last month.
And now the upcoming smartphone may have gotten its specs outed by a benchmark. A Motorola device with the model number XT1063, which could in fact be the Moto G2, has been spotted in the GFXBench database.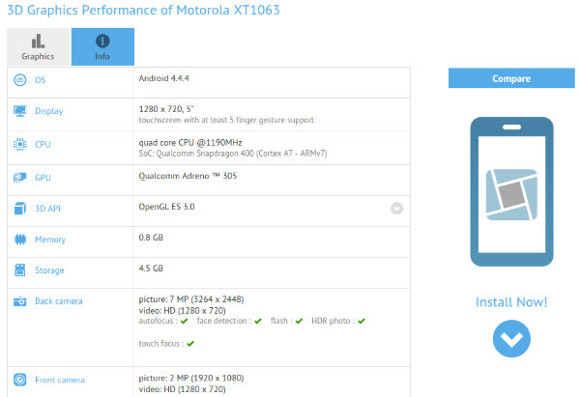 It comes with a 5-inch 720p touchscreen, the same Qualcomm Snapdragon 400 chipset as its predecessor (with a 1.2 GHz quad-core CPU), 1GB of RAM, 8GB of internal storage, a 2MP front camera, and an 8MP rear snapper. The device runs Android 4.4.4 KitKat.
The biggest updates compared to the original G are in terms of screen size (up from 4.5 inches) and camera resolution, both on the front and on the back. The Moto G has a 5 MP rear unit, and a 1.3 MP one for selfies.
Everything else has stayed the same, though, so this won't be a revolutionary update to the G line for Motorola. Perhaps the light additions will allow the company to out the G2 alongside the flagship Moto X+1 this fall.
r
Price will be: 179 - 199 US$