Google Photos knows its way around your library
Google Photos is your gallery app on the G4 Plus. Just like its sibling, the Moto G4 Plus even comes with 2 years of free full-resolution backups (normally this is paid, free accounts get only limited resolution backups). Uploads can happen over Wi-Fi only or use cell data too.
Pinch zoom changes the size of thumbnails, but the search field is pure sci-fi - type in the name of a place, person or just name a thing (e.g. 'swimming pool') and it sifts through years of photos in a moment. That is some next level neural network computational power right in your hands and free of charge. Better yet, the more photos you accumulate over time, the smarter Google's search gets.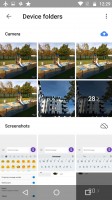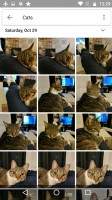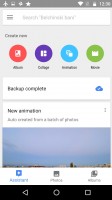 Google Photos • Amazing search • The assistant
The assistant continues the AI tricks by automatically creating panoramas and slideshows (complete with maps of your travels), it even processes certain photos with more skill than your average Joe - it straitens them, adjusts levels, it may decide to make them black & white and so on.
All of these auto features can be triggered manually, of course. From the editing you can hit Auto to fix the colors and contrast, you can auto-level a photo or just add filters.
Video Player
There's no video player as such, but you can use Google Photos to view videos. That's mostly for ones from your camera as if you want "advanced" features like subtitles you're out of luck.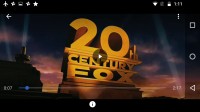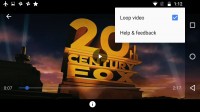 Basic video player from Google Photos
Moreover, for some odd reason, the Photos app couldn't quite handle our standard battery testing video. And it is nothing really all that special, just an MPEG-4 with MPEG audio, wrapped in a mp4 file. Overall, a 1600kbps, H263 file that should frankly be a breeze for any current device.
Since this is the first time we find ourselves in this predicament, we were forced to use VLC for the battery test part and dig a little deeper into the matter of encoder support. Below you will find the results from AnTuTu's video testing app, which do show some notable absences. However, we are more inclined to write it off as a unit specific issue than anything else.
Google Play Music merges streaming and offline
The overall music playback experience, on the other hand, almost makes up for the video hurdles. Play Music works as a generic music player, but it's also a streaming app. Google boasts 50,000 tracks and if you're worried about data usage, you can just make your favorite albums available offline.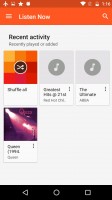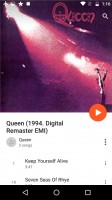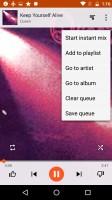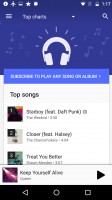 Google Play Music is built around music streaming
Still, if you prefer your own music library, then Play Music will assist you in loading tracks from your computer or a USB drive if you happen to have one.
Separate equalizers are available for wired headsets and the front-facing speaker. For headsets, you can also enable surround sound and other features.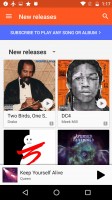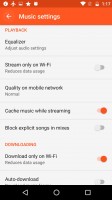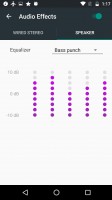 It plays offline music too • You can cache streamed music • Setting up the equalizer
FM radio with RDS and recording
The FM radio app comes courtesy of Lenovo, as Google just doesn't care for non-Internet technologies. The app is full-featured. It has RDS, a sleep timer and record broadcasts (with an auto-off feature when storage runs low). The radio can play through the loudspeaker but still needs the headset connected.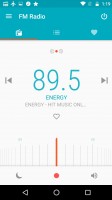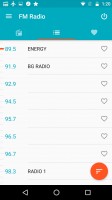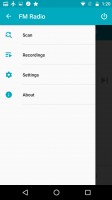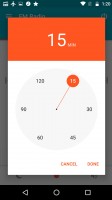 FM radio with RDS, sleep timer and broadcast recording
Audio quality
The Moto G4 Plus might offer an arguably great audio experience overall, but that is only from a subjective standpoint. Our review unit sounds subjectively fine, but when we tried to put it through our standard audio testing procedure, the results just kept coming out way too distorted.
Again, we are inclined to blame the pre-production review unit itself. That being said, we can't deliver any conclusive results. However, the Generic Moto G4 is likely a good place to turn for a ballpark of the audio quality results of the G4 Plus.
You can review them in detail here, but, overall, the Moto G4 managed to score top marks in this department.