Deal Alert: Moto G5 Plus deal (US): 32GB model is $30 off, 64GB model is $50 off
The G5S may be official, but the Moto G5 Plus got a price cut that makes them worth another look. The G5 Plus offers a 5.2" 1080p screen, Snapdragon 625 chipset with a 3,000mAh battery and a 13MP/2160p main camera. Compared to the G5S Plus, you get the same chipset and battery, but a smaller screen (vs. 5.5") and you miss out on the dual camera.
The 2GB/32GB model is $200 on B&H Photo Video and on Amazon.com. Itís probably worthwhile to upgrade to the 4GB/64GB model for $250 from B&H Photo Video (Amazon has it for $300).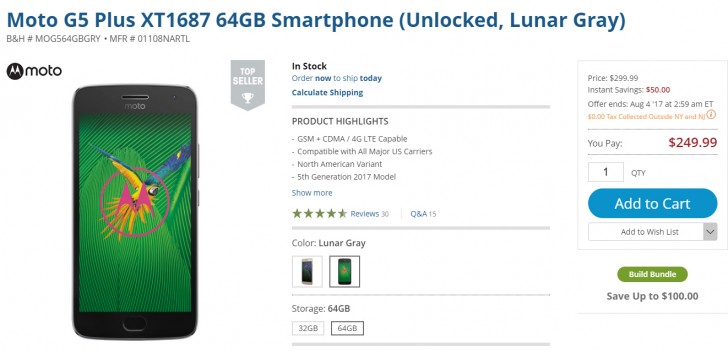 Note that the B&H deal ends today (at 3 AM ET).
J
Amazon has both options for the exact same price as B&H and the ad supported version is still cheaper, despite the article on B&H stating otherwise.
D
Hmm, some would consider f/1.7 dual-pixel camera of the G5 Plus to be superior to that of the dual camera in the G5S Plus.