Motorola Moto G6 hands-on
Like we already mentioned, while the regular Moto G6 naturally constitutes a downgrade, compared to its bigger Plus sibling, it's not really that extreme. Well, the bump down from a Snapdragon 630, to a Snapdragon 450 has its clear consequences. Most notably, the lack of 4K video capture.
However, the most apparent hardware traits and aspects of the more expensive model are present here as well. The attractive build, with a shiny Gorilla Glass 3 layer on both sides is here. So is the trendy, 18:9, Max Vision display. Even it's sharp, FullHD+ resolution managed to survive the market segmentation treatment. The dual camera setup is also accounted for. Minus a few minor details.
Since we already did a rather extensive hardware tour of the G6 Plus, you can check the previous page for more details. You will find that the G6 practically looks and feels the same. That is to say, way more premium than its price segment suggests.
Hardware nitty-gritties aside, that allows the average users to pick a Moto purely on size preference. That sounds like a very well thought-out product lineup in our books.
For the sake of thoroughness, besides the smaller 5.7-inch display, the lower-end Snapdragon 450 chipset and its FullHD video capture cap, other downgrades the G6 has compared to the G6 Plus include an older Bluetooth 4.2 radio and lack of ac channels on the Dual-Band Wi-Fi.
Also on the list is a smaller 3,000 mAh battery. It does still have the benefit of 15W TurboPower charging, though. And since the battery will be driving a smaller display and an equally battery efficient 14nm Qualcomm chipset, the endurance difference could be surprisingly small. There'll be more info about that in the full review.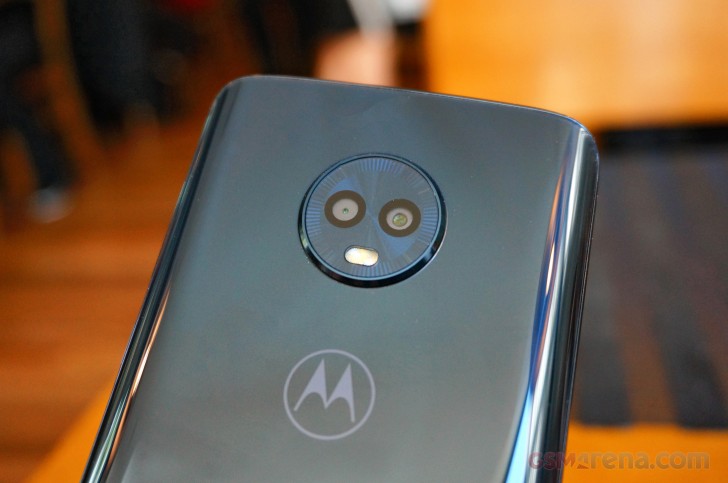 The same goes for an in-depth camera evaluation for the new Moto G phones. But in the meantime, we did manage to take the Moto G6 out on a photo shoot for some early samples. Say what you want about Brazil, but it definitely doesn't lack color!
The Moto G6 has a 12MP main snapper at its disposal, which, upon first inspection, captures vibrant photos, with decent detail and few outstanding issues. The secondary 5MP camera isn't a telephoto, wide-angle or monochrome. Nothing too fancy. It's just there to provide the additional depth information and help in some more challenging conditions.
We were a bit disappointed to only find a single LED flash on the regular Moto G6 while its bigger sibling gets the benefit of a Dual-Tone setup.
In lower light the Moto G6 photos have some noticeable noise. Still, it's nothing too severe.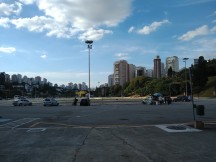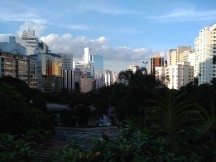 Motorola Moto G6 darker samples
HDR seems to also do a fairly good job and saving some details in shadows and highlights. Of course, we'll reserve final judgment for the full review.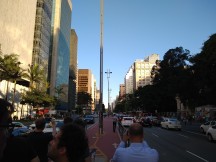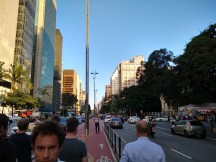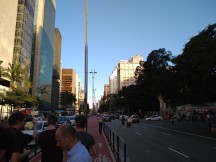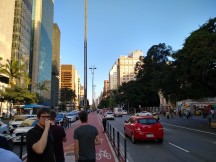 Motorola Moto G6 samples: HDR Off • HDR On • HDR Off • HDR On
1080p video recording seem decent as well.
In keeping with tradition, the Moto G6 runs an almost Vanilla version of Android 8.0 Oreo. Motorola only adds a few extra features on top, like the Moto assistant, which objectively offer added value, pretty much universally.
We experienced no slow-downs or major hiccups while using the UI and still stand by our belief that a Snapdragon 450 has plenty of horsepower for most average users. But if you prefer some raw figures over first-hand experience, we also ran a few benchmarks. Here is how the Moto G6 stacks up against some of its viable market competitors.
GeekBench 4.1 (multi-core)
Higher is better
Xiaomi Redmi Note 5 Pro
4696
Motorola Moto G5S Plus
4331
Xiaomi Redmi 5 Plus
4309
Moto G5 Plus
4255
Motorola Moto X4
4136
Xiaomi Redmi 5
4018
Motorola Moto G6 (event)
3795
Huawei P Smart
3736
Nokia 5
2851
Nokia 6 (Global version)
2841
Xiaomi Redmi Note 5A (Y1)
2610
Moto G5
2580
Motorola Moto G5S
2277
Sony Xperia L2
1932
GeekBench 4.1 (single-core)
Higher is better
Xiaomi Redmi Note 5 Pro
1327
Huawei P Smart
939
Xiaomi Redmi 5 Plus
874
Motorola Moto X4
866
Motorola Moto G5S Plus
848
Moto G5 Plus
847
Xiaomi Redmi 5
766
Motorola Moto G6 (event)
735
Sony Xperia L2
679
Xiaomi Redmi Note 5A (Y1)
678
Nokia 5
672
Nokia 6 (Global version)
665
Motorola Moto G5S
635
Moto G5
618
AnTuTu 7
Higher is better
Xiaomi Redmi Note 5 Pro
107737
Huawei P Smart
87156
Motorola Moto G6 (event)
74571
Sony Xperia L2
45023
GFX 3.0 Manhattan (1080p offscreen)
Higher is better
Motorola Moto X4
14
Xiaomi Redmi 5 Plus
9.9
Motorola Moto G5S Plus
9.8
Moto G5 Plus
9.7
Xiaomi Redmi 5
9.4
Motorola Moto G6 (event)
9.3
Huawei P Smart
8.7
Moto G5
7.1
Motorola Moto G5S
7.1
Nokia 5
7.1
Nokia 6 (Global version)
7.1
Meizu M5 Note
5.5
Meizu M5
5.2
Xiaomi Redmi Note 5A (Y1)
4.6
Sony Xperia L2
4.1
GFX 3.0 Manhattan (onscreen)
Higher is better
Xiaomi Redmi 5
18
Motorola Moto X4
15
Xiaomi Redmi Note 5A (Y1)
15
Nokia 5
14
Motorola Moto G5S Plus
10
Meizu M5
10
Moto G5 Plus
9.7
Xiaomi Redmi 5 Plus
9.4
Motorola Moto G6 (event)
8.8
Sony Xperia L2
8.8
Huawei P Smart
8.3
Motorola Moto G5S
7.5
Moto G5
7.1
Nokia 6 (Global version)
7
Meizu M5 Note
5.5