The Moto G6 Play specs leaked a while back and they point to a Snapdragon 430 chipset. Not that we're unfamiliar with its performance, but now is a good chance to compare it to the Snapdragon 450.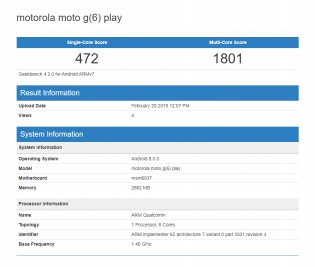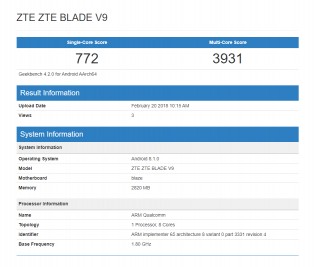 Geekbench results: Moto G6 Play • ZTE Blade V9
The 450 is to be found in the upcoming ZTE Blade V9 – a phone with an 18:9 screen, just like the Motorola. Both of these phones ran the Geekbench 4.2 sprint and here are the results (the two phones have different screen resolutions, but this benchmark tests only the CPU).
GeekBench 4.2 (single-core)
Higher is better
ZTE Blade V9
772
Motorola Moto G6 Play
472
GeekBench 4.2 (multi-core)
Higher is better
ZTE Blade V9
3931
Motorola Moto G6 Play
1801
Both phones have octa-core Cortex-A53 processors, though the clockspeed goes in favor of the ZTE and its Snapdragon 450 – it's 1.4GHz vs. 1.8GHz. The RAM amount is 3GB on both phones and they run Android Oreo (though the Blade V9 was at 8.1 while the Moto G6 Play was at 8.0).
The results are quite impressive – while only having 30% faster clock speed, the Snapdragon 450 processor posts nearly double the single- and multi-core results. Keep in mind that the GPU should do have about 2x the speed too.
Thanks for sending this in, Michael
K
The 450 is a reworked 625 just with 4K video capture disabled and the same Adreno 506 GPU down-clocked slightly. So it should be getting the exact same results.
?
on paper zte win, but motorola optimizing will make result both on par, amount of RAM might same, but speed what matters suport SoC