Over the past few weeks, the next iteration of the Moto G has been leaking a lot. Basically we already know very many details about it, even as we're still a few days away from its unveiling on July 28.
One thing that hasn't been rumored a lot is how much the device is going to cost. We've only had one data point for this so far, through a retailer leak from Switzerland, and that led us to believe that the handset could be more expensive than its predecessors.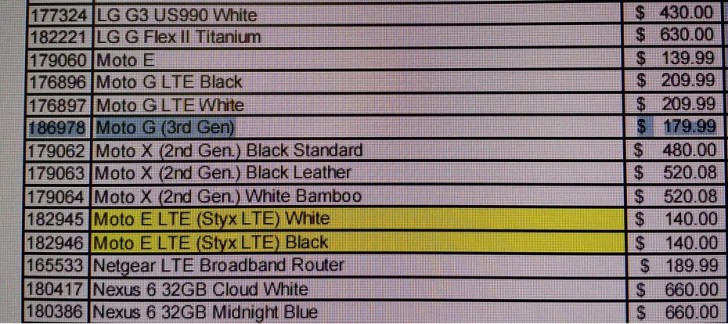 Yet now a new purported leak comes to contradict that theory. What you see above is said to be a screengrab of an inventory listing at US Cellular. As can be discerned from this image, the carrier is getting ready to sell the Moto G (3rd gen), and its price is said to be $179.99.
That's exactly as much as past Moto Gs have launched for, so it could all be good news. Then again, we still don't know if Motorola will launch two versions - 3G-only and 4G-capable - as before or will finally choose to only release one SKU, with LTE support built-in. If the latter turns out to be true, then the pricing is even more noteworthy, since in in the past only the 3G Moto Gs went for this much.
B
There will be two versions of moto g3 available in flipkart.8gb and 16 gb .8 gb with 1 gb ram will cost 11999 and 16 with 2 gb ram will be available @13999