After getting treated to a couple of substantial discounts recently, the Moto X received a permanent off contract price cut. The characterful Android 4.4 KitKat smartphone is now available for $399 for 16GB version without any carrier obligations.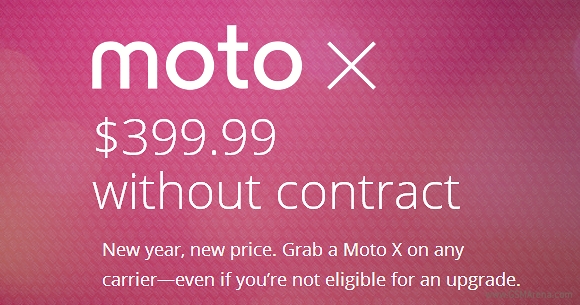 A Moto X with 32GB of built-in memory now costs $449. The new pricing for the Moto X includes customized devices from Moto Maker, and is available on all carriers in the United States. Interest-free financing is also on offer, allowing customers to pay off their Moto X over 6, 12, or 18 months.
Motorola's aggressive off contract price tag falls in line with a recent shift in service princing by the carriers in the United States. Cheaper, contract-free plans which don't charge customers for device subsidies are quickly gaining popularity on the US market.
Despite its brand new price tag, the Moto X is not the cheapest smartphone Motorola has to offer. This privilege goes to the Moto G, whose starting price of $179 makes it a downright impulse buy in the US.
s
i dont get it.... i thought India was the test market for everything! I've had friends go home to India for vacation, and taking orders for friends!
?
i think tgey are trying to minimize costs by selling in only some markets where they can stand in front of the big players. They probably are trying to establish a new name for Motorola before going worldwide.
?
Yes, it's available outside of NorthAmerica, the holy America have this phone