Made to order
Moto X Style (Pure Edition) review: Made to order
Final words
This year's Moto X Pure Edition is easily Motorola's best Android smartphone to date. It combines attractive, highly customizable looks, excellent build quality, superb camera, and impressive connectivity suite to go with an attractive off-contract price tag.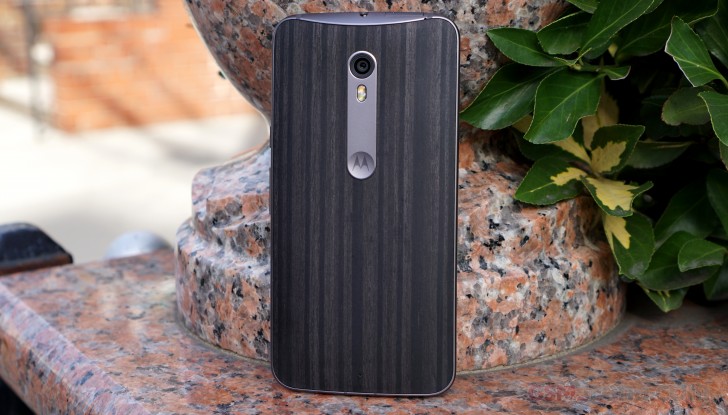 Lenovo deserves as much credit as Motorola on this instance. The Chinese tech giant has not tried to change the direction of the Moto X product family in any way, unless it made the smartphone better.
Under the new management, Motorola has improved everything we liked about the first two Moto X generations. The latter's downsides have been addressed as well.
Key test findings
The combination of Qualcomm Snapdragon 808 chipset and 3GB of RAM is capable, though not the most powerful out there.
The device's cellular connectivity options are among the best in the business.
Both cameras are excellent and a massive improvement from past efforts by Motorola.
The microSD card slot is a welcome addition to the product family.
Motorola's Turbo Charger is quick and effective.
The stereo speakers are another excellent addition to the Moto X lineup.
Moto Maker is better than ever - it truly separates the Moto X Style (Pure Edition) from its competitors.
The device's stock Android 5.1.1 Lollipop has absolutely no bloatware and ensures fast firmware updates going forward.
The build quality and handling of the smartphone are exceptional.
Battery life has improved from past generations, but does not stack up well against the best in the business today.
In terms of chipset performance, the new Moto X Style (Pure Edition) performed just as we expected. Qualcomm's Snapdragon 808 is not the most powerful high-end chipset but, coupled with stock Android, it felt snappy and responsive at all times.
The new 21MP camera is excellent, especially in good light. As far as photography is concerned, the new Moto X Style (Pure Edition) can finally go head to head with the best solutions in the segment without worrying about the final outcome.
Adding a microSD card will appeal to "old school" power users and owners of past Moto X iterations alike. Finally, owners of the device don't need to worry about the amount of full-size images and 4K video they shoot.
Of course, the past iterations' traditional strengths have also made it to the Moto X Style (Pure Edition). Superb build quality and tactility, Moto Maker, and stock Android ensure that the handset stands out in its ultra-competitive segment.
Most importantly, Motorola has priced the Moto X Style (Pure Edition) more aggressively than any of its predecessors. At $399.99 with no contract for a 16GB variant, the handset is easily one of the most attractive options available for the money.
Versions with 32GB and 64GB of built-in memory cost $50 and $100 extra respectively. The only other other available option for the device is a leather or wooden back for $25, so a fully loaded, customized Moto X Style (Pure Edition) with 64GB of storage still comes in for the highly acceptable $525.
As always, we took a look around to see what other smartphone can one get for the money Motorola is asking for the new Moto X Style (Pure Edition). Here are some of the notable alternatives to the device.
OnePlus 2 cost less than $400 for a 64GB variant and offers more powerful (and warmer) chipset and a fingerprint sensor. However, OnePlus 2 is hard to find and nowhere near as good looking as the Motorola. Its display and camera are also no match for the Moto X Style (Pure Edition).
Priced at $449 with no contract, ZTE Axon Pro matches the QHD screen of the Moto X Style (Pure Edition). It also comes with the best warranty in the business.
Lack of expandable memory, lackluster camera, and lack of customization options prevent the Axon Pro from stealing Moto X's thunder. Motorola's latest flagship as simply a more polished proposal.
LG G4 is a tad more expensive, but just as capable as the Moto X Style (Pure Edition). It has optional leather backs and removable battery too, though it lacks stereo speakers, splash resistance, as well as Motorola's metal frame and customizable body.
If $400 is all you can spend on a smartphone, we believe that you will be hard pressed to find a better option for your money than the Moto X Style (Pure Edition). The smartphone seamlessly combines looks and, so it is easier to recommend that any of its predecessors.