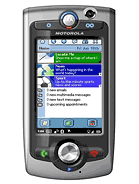 u
the phone looks so ugly, the spec is fantastic. I think they should stick the spec into a nicer outter shell haha
k
Wow, there are so many beauties intorduced in this year's 3GSM. But nothing beat this ultimate beauty. Can be better with UIQ 3.0 on Symbian 9.0.
c
I am a A1000 owner and I am not dissapointed at all! Knowing that is its expected Q4 soo5, that is when my contract runs out. I susspect that it wont be out of a while, as when the A1000 was announced, it was 6-7 months before it hit the shelves.
R
You can settle for 2 MP camera if you want. But I personally don't need everything this handset has to offer, so I'll probably go for the cheaper E1120 with 3MP camera.
d
looks nice, should b a winner, sticking to same interface as my A925 which is also a super handset, good on ya moto
M
seems like a good phone, but 1000 owners will be disapointed:) i won't... 2megapixel camera, not bad, ey?
Total of 193 user reviews and opinions for Motorola A1010.