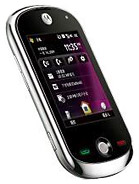 l
I want to swich the language from chinise to english... what I have to do..???
M
lilyosse094, 20 Feb 2010i love this design!!! but,it doesn't have wi-fi..huhuthe A3100, has wifi
M
This is weird, I see some minor difference between the A3000 and the A3100, Where is the A3000 available? And the A3100 can take micro sd card up to 32GB...
k
hi all can u tell me the price of this phone as i planned to buy one.
1
jay, 11 Aug 2009is this a downgrade of moto a3100?Not exactly a "downgrade", just a "non-3G" version specially designed for China, which still doesn't have WCDMA 3G yet. (but will be lauched soon)

If I remember correctly, this phone was released in Feb in China.
Total of 14 user reviews and opinions for Motorola A3000.