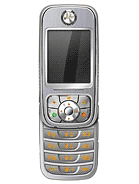 a
motorola had to join the slide phone gang so to see if will work they have only put a VGA camera with this model
B
I dont like all these slide up phones that are coming out. The only nice ones are the samsungs - all the nokia ones, and this one, are ugly.
F
Its funny how Motorola released a similar product to this a while ago (MOTO MINI) and Samsung made the SCH-X8100 to rival it in Korea,...and now, after Samsung releases SGH-X810, motorola releases this phone to rival the samsung..
y
o nm i read the comments below
i think it looks alrite that not bad
a good phone to play around with
C
I think this phone is kool. I don't really need a MegaPixel camera but beside that this phone is FULLY features ex. Touchscreen, 256K colors with expand microSD (TransFlash),Text to Speech functionality, MP3 player and Bluetooth. All the good feature is here, compare to any other slide phone like D500 from Samsung no expandable memory no touchscreen. If any of you find a phone with all the feature this phone have + megapixel please let me know. P.S. this is the first MOTO SLIDE PHONE and they did good.
J
i like it...

so is it a smartphone or just a regular phone??

i ask because of the touch screen...
u
If this came onto the market cheap, then i would understand "style" but i dont find the phone attractive :/
h
but its not pretty neither =P even if its the fashion phones are comming with svga or 1.3mpx
R
This phone isn't meant to be a high quality camera phone. Its meant to be a style phone I think. I don't think the VGA is a problem
?
VGA CAMERA?!?!?!??! what the are you people thinking? even a svga would be good...
Total of 92 user reviews and opinions for Motorola A732.