Organizer
Like most droids siblings, the Motorola Atrix 4G comes with a rich set of organizer features and a document viewer out of the box. Not that snatching one off the Android market is impossible but it's nice of Moto to have saved you the effort.
Quickoffice is their app of choice and it has support for viewing document files (Word, Excel, and PowerPoint). For editing, you will need to upgrade to the paid version though and there's no support for PDF.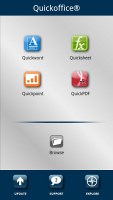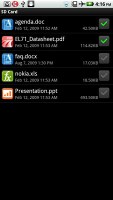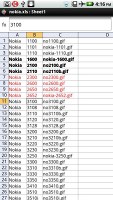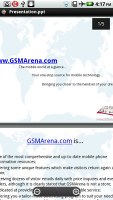 Quickoffice comes preinstalled
The best part about it is that the viewer integrates with the Gmail app as well, which makes viewing attachments easy. Unfortunately, you are unable to save them to the phone memory (that only works for images, we guess). Attaching saved files (and we mean all kind of files) is possible though.
The calendar has four different types of view - agenda, daily, weekly and monthly. Adding a new event is quick and easy, and you can also set an alarm to act as a reminder. It is also integrated with the status bar and also offers pop-up notifications.
The calculator is nicely touch optimized – the buttons are big enough and easy to hit.
The Atrix 4G features a decent alarm clock application which allows a huge number of alarms to be set, each with its own start time and repeat pattern.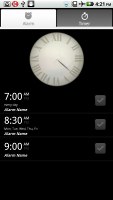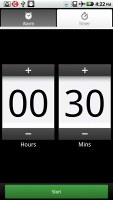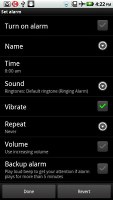 The Clock app • The Timer app • Setting an alarm
There's a file manager on board, as well. It's nothing groundbreaking but functional.
The Android Market is here, naturally. The Atrix 4G runs the latest version of the market with the revamped look. The structure of the Android Market is quite simple – featured apps on top and three buttons (Applications, Games and My apps). There is also a shortcut up there for initiating a search.
The Applications and Games sections are divided into subsections (e.g. Communication, Entertainment etc.) so you can filter the apps that are relevant to you. Of course, there is also an option of displaying them all in bulk, but you'll probably need days to browse them all that way.
There are all kinds of apps in the Android market and the most important ones are covered (file managers, navigation apps, document readers etc.).
The YouTube app is here too. It's a more dedicated substitute to watching videos straight in the web browser.
Finally, we have the Task Manager. It's a very basic one and far from the propriety Task Manager, used in Samsung Android phones. It will show you the current running services and an option to set auto-closing of some applications.
Google Maps will navigate you on your way
The Motorola Atrix 4G comes with a GPS receiver and A-GPS technology. It locked to a satellite in about a minute and had no problems from then on.
Google Maps is the app of choice and its Street View mode is probably the best part of the deal in regions where turn-by-turn voice navigation isn't yet offered. If the Street View is available in the area you're interested in, you can enjoy a 360-degree view of the area. When the digital compass is turned on, it feels like making a virtual tour of the surroundings!
Choosing directions in Google Maps is very easy and so is the interface of the application. It gives you turn-by-turn navigation with voice commands in about 5-to-10 countries in the world. So the best you can do is plan a route in advance and keep an eye on your current location during travel.
You could just look in the Android Market – it will offer both free and paid alternatives, which can do more than just voice-guided navigation. Some apps can record GPS data, training apps keep track of your lap times and so on.