Average camera, at best
The camera on the Motorola Atrix 4G is a 5 megapixel one, capable of capturing pictures of 2592x1944 resolution. You get a dual LED flash for night photography, which doubles as a video light and a flashlight, combined with the right app, that is.
The camera UI is very simple, with a viewfinder, virtual capture button and a preview box in the lower left corner and resolution indicator along with the number of shots available.
Settings-wise the Atrix 4G offers just the basics – resolution, review time, storage location and capture tone. Plus you get special effects such as black and white, negative, sepia and solarize. The Scenes option allows you to go for Auto, Portrait, Landscape, Sport, Night or Macro shot.
There's no sign of more advanced settings such as ISO, white balance, focus (manual or touch), stabilization, or face detection are left out.
You can also choose to use the front facing VGA camera but we would recommend it, as it's only good for a crappy self-portrait every once in a while.
Custom tags are a handy feature to keep photos organized – you can add a tag, say "outdoors" and it will remain active between sessions until you delete it. Adding and removing tags is fast and easy. There's an automatic location tag too.
Now, moving on to the actual photos produced by the Atrix 4G – they're only average. Colors look washed out and noise levels are high (even for a mobile phone). Unfortunately, the camera gets the white balance wrong most of the time so we had a really hard time picking keepers for our samples - most shots have a strong green tint. The only thing that's okay about the photo quality is the relatively nice level of resolved details (that could use some sharpening) and the contrast, which is fine too.
Now the white balance thing is obviously a software issue and we hope it can be fixed in a future update but Motorola is not really known for its timely software updates even for flagship products.
Here are the best camera samples we took home:
Photo quality comparison
You can check out the Motorola Atrix 4G over at our photo quality compare tool. Just click on one of the images to check out the full page.
As you'll see the level of resolved detail is generally fine but the greenish tint ruined the Color poster for us. The iPhone gets most things nice and sharp in contrast with the Atrix 4G but it's probably the sharpest 5 megapixel cameraphone we've seen so the Atrix is actually doing fine as far as these snappers go.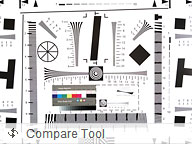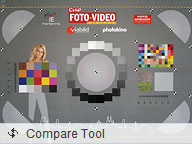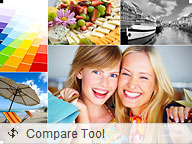 Motorola Atrix 4G in our Photo Compare Tool
No FullHD video recording just yet
The Motorola Atrix 4G can record HD video at 720p resolution. This is it for now, but a future update should fix this and enable 1080p video capture.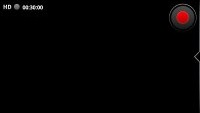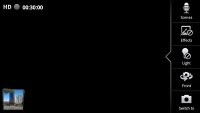 Camcorder UI
The Atrix 4G videos are actually really nice. You get smooth framerate and nice detail levels. The colors are perhaps oversaturated but that's a matter of personal taste.
We can't wait to see what the 1080p video recording mode will be like.
Anyway here's a 720p video sample, captured by the Atrix 4G for you to check out.
You can download an untouched version of the video sample above.
Video quality compare tool
Check out the Motorola Atrix 4G in our video compare tool. You can pit it against other phones in this class to get an idea of where the Atrix 4G stands.
You will notice it's easily on par with the nice videos from the Nokia C6-1 and C7 and it's also better than the Galaxy S.