The Motorola Atrix 4G launched in the US a week ago and now the euro version (called just "Atrix") has a launch date for the UK where it will be exclusive to Orange. The two cool docks will be available at reduced price with certain plans.
We've covered the Motorola Atrix in our review (actually it was the Atrix 4G) so all that remains to say is that the difference between the Atrix and the Atrix 4G is the name (and FM radio support). Both have the same network speed, the 4G (HSPA+ in reality) is a marketing gimmick.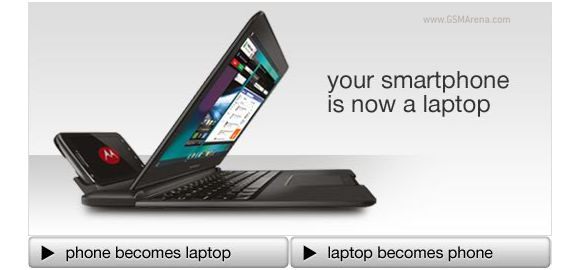 Anyway, you can reserve a unit in Orange shops or just sign up for updates about the Motorola Atrix here. The phone will be available in May on a £35/mo 2-year contract with 600 minutes and 750MB data.
The plans get you a free Atrix and the option to buy the Work and Play kit (includes Multimedia Dock, keyboard, mouse and remote control) for £50 (it usually costs £130) if you're a new customer that is – existing customers who choose to upgrade get it for free!
The Laptop Dock for the Motorola Atrix is priced at £300 but with certain plans can be had for a reduced price and business customers can get it free if they choose the Solo 55 plan.
There's another dual-core droid landing in the UK, the Samsung I9100 Galaxy S II, in May too.
d
CAn your laptop go online anywhere? can you continue your work from laptop to phone straight away? Does your laptop read fingerprints? Does your laptop have 5MP camera? Does your laptop work 10 hours? and charge your phone up? I dont need a cable to ...
K
I paid 1500 euros for my laptop, ain't gonna trade that for some shitty laptop dock.
?
ya enjoy with your upocoming gs2 !! but i can buy atrix now with beter hardware and battery and qhd display and i have laptop dock too !! so i dont need to real laptop or even tablet
ADVERTISEMENTS