Telephony does well
We had little issues with the signal reception and in-call voice quality of the Motorola BACKFLIP. The phone's earpiece is loud and clear enough and the volume in loudspeaker mode is good enough in most scenarios.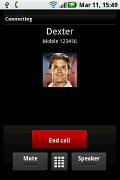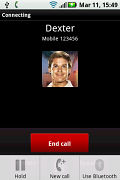 Calling Dexter on the BACKFLIP
The dialer features a regular phone keypad, a list of your recent calls and a list of the most frequently called contacts. There is also the traditional speed dial list.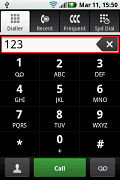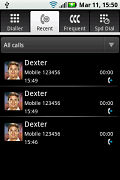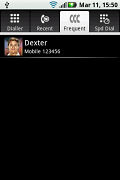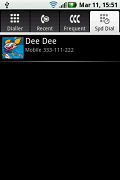 The dialer screen • recent, frequent and speed dial contacts
Thanks to the built-in proximity sensor the phone's display automatically gets switched off when you hold it next to your face during a call. That way you don't risk pressing any keys by mistake with your ear or cheek.
We conducted our traditional loudspeaker test on the BACKFLIP. It got a Good mark, ranking just above the middle of our table.
| | | | | |
| --- | --- | --- | --- | --- |
| Speakerphone test | Voice, dB | Pink noise/ Music, dB | Ringing phone, dB | Overall score |
| Apple iPhone 3G | 66.1 | 62.1 | 71.7 | Below Average |
| Motorola MILESTONE | 69.7 | 78.0 | 66.2 | Good |
| Motorola BACKFLIP | 71.0 | 67.2 | 78.9 | Good |
| Nokia N97 mini | 68.8 | 66.7 | 83.6 | Very Good |
| HTC Touch HD | 77.7 | 73.7 | 76.7 | Excellent |
Messaging all set and ready to go
Messaging is definitely among the Motorola BACKFLIP and MOTOBLUR elements. The UI adds a consolidated inbox to let you see all new stuff without needing to browse several apps.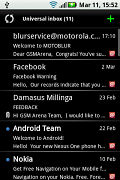 The consolidated inbox brings all your messages together
Like on other Androids, if you have only one SMS message, a line in the notification area displays the sender and part of the message itself. If you have two or more messages, you are simply informed of the number and once you hit the icon you're taken to the Messaging Menu.
Composing a message is a little frustrating as the text box only takes a single line of the screen even if you hide the virtual keyboard, which really only gives you little space to work with.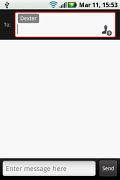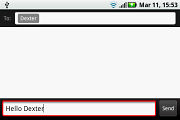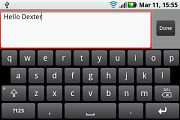 Sending Dexter a message on the BACKFLIP
To add recipients, just start typing a name or number and choose from the contacts offered. The automatic suggestions will appear and you can easily select one by tapping it. The BACKFLIP shows the name and number/email of each of the suggestions so you won't end up using the wrong number for some of your contacts.
A press-and-hold on the text box gives you access to functions such as cut, copy and paste. You are free to paste the copied text into any other application like email, notes, chats, etc. and vice versa.
Converting SMS to MMS is logical and easy. When you add multimedia content to the message, it is automatically turned into an MMS. You can just add a photo or an audio file to go with the text, or you can choose to go into a full-blown slideshow editor.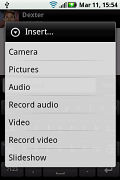 Adding multimedia content automatically turns an SMS into an MMS
Gmail is one thing that you can't expect to have changed much compared to other Android handsets. Batch operations are available and the mails that go into your Gmail are also stored in your consolidated inbox so you might not even use the Gmail app that often.
The user interfaces of both the Gmail and Mail apps have been slightly polished with several icons in the menus changed. The extended Gmail features include spam report and of course conversation-style view mode.
When replying to an email you can opt for either Gmail or the generic mail client, and set one of the two options as default. The reason behind most Android handsets coming with two email clients is the added corporate Exchange ActiveSync support.
As customary for the platform there is also a standard email app for all your other email accounts and it can handle multiple POP or IMAP inboxes. Sadly, the emails are not displayed in threaded pattern like those in the Gmail app, but you still have access to the messages in the original folders that are created online, side by side with the standard local ones such as inbox, drafts and sent items.
With a hardware keyboard chances are that you won't use the screen of the BACKFLIP for much text input.
Still, the Motorola offers the traditional Android keyboard that operates in both portrait and landscape modes. It certainly doesn't have the largest keys in business but will do for quick jobs.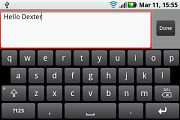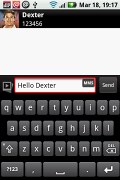 The virtual QWERTY keyboard works in both portrait and landscape modes