The Motorola Backflip (it's also known as Enzo) is a first for AT&T - it's an Android phone. It's not official yet, but it's a very interesting phone in that it was designed by someone completely lacking spatial awareness.
First things first. The Motorola Backflip is a rather appropriate name as you're about to find out. Spec-wise it's almost identical to the Motorola CLIQ (or Motorola DEXT MB220 as it is known outside the States).
This means typical Android device and typical specs - 3.1" HVGA display, 528MHz CPU, 256MB RAM/512MB ROM, Wi-Fi, Bluetooth and GPS. The software is said to be Android 1.5 with Motoblur and lack all Google apps except Google Maps. The Android Market is included though.
AT&T have taken their time to include their own customizations - Yahoo! Search (say what?), AT&T Nav, AT&T Music and AT&T Mobile App store. Anyhow, word is that the Motorola Backflip is thinner, slightly smaller and lighter than the T-Mobile G1 (or HTC Dream).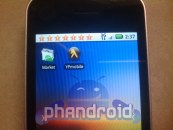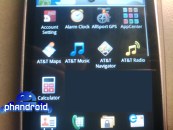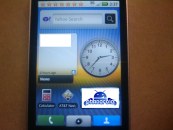 AT&T left their mark on the Motorola Backflip
The Motorola Backflip sports a 5-megapixel camera with autofocus and LED flash but, uh, there's a problem - the placement. We mentioned the weird form factor, right? Well, sit down because your head will start spinning.
If you've looked at the photos you're probably feeling something is off - how come you can see the keyboard in that one photo but not the screen? Well, it's called "Motorola Backflip" for a reason. The keyboard is on the back on the device, while the display is on the front.
When you fold the Motorola Backflip open, things start to look normal, good even - that's one roomy 4-row QWERTY - but putting the keyboard on the back where it's always exposed is not exactly a good idea. And where's the camera - on the keyboard, of course. Where else?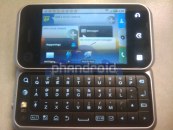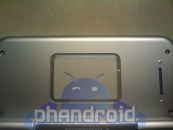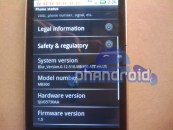 That's some bad camera placement • the touchpad • the Backflip still runs Android 1.5
Oh, and that's not all that's strange about the Motorola Backflip - there's a touchpad on the back of the screen, accessible when the phone is open. Apparently, it can be used for scrolling. It's not like the phone has a 3.1" touchscreen or anything. Weird.
One last bit of weirdness before we go - the (admittedly rumored) specs list the device as quad-band GSM/EDGE and quint-band 3G. That is 5 bands in a row - 850/900/1700/1900/2100MHz. Of course, it could just be a mistake. There's no guarantee that the Motorola Backflip will have global 3G support (but if it does, we'd need a better name for it).
1
I speculate certain almighty brand / I ? music brand has been paying various forums / websites / stores to promote their products...by giving $, of course, and make sure to "demote" products from other brands.
M
If you're obsessed with plainness and hackneyed designs, you can always go for the el cheapo 30-dollar mobile phones. This inventive mobile phone is clearly not for you.
?
You don't buy a phone for its camera, the same way as you don't buy a car for its cigarette lighter.
ADVERTISEMENTS