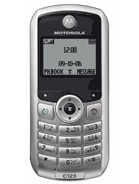 s
Good reception. Simple phone when you just want a cheapie to make calls and send texts. Cost me $20 new - what more do you want! Couldn't care if it gets stolen - will just get another one!
?
great phone, 15days of standby autonomy, and 15hours talk
simply but
nice
?
its a nice phone that is easy to use and has good network reception.
S
Some of its good feautures are:
1)Sleek and cool design
2)battery level is comparable(or much better) to Nokia phones(talk time upto 8hrs)
3)inexpensive($24,1500PKR)
4)sharp monochromatic screen
5)durable
Some of its bad feautures are:
1)Sim-based memory only
2)hard-to-press keys
3)feautures are not easily accessible
4)Inspite of having screen saver option, screen saver only appears for 1 min
5)sometimes shows incorrect sender's name(i.e. wrongly replaces sender's id stored in phone)
A
Most importantly, this fone is at a cost as low as Rs.1500(about$24). You r getting more than what paying for..
A
What inspired me in this fone is its cool design. Performance, battery and design is perfect, but it has sim-based memory only and keys r hard to press.
Total of 49 user reviews and opinions for Motorola C123.