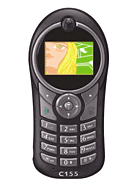 C
i thought c155 support to infrared n speakerphone??if can, how to make that?
thank u
GBU
s
I wanted JUST a phone, not a bag of complex TV/radio/camera duh! So C115 is compact, light weight, + battery is outstanding!(10 days least in connex.ro). At 15 usd i bought it. Is best for my needs. I don't like to carry a photo camera with me allways, buy one separated it's cheap that & is more powerful.
r
not bad. but why the ringtone not poly. i want buy it. nut, when i know isnt poly ringtone, bye-bye
j
are u really taking serious about your product? before launching please compare with nokia also.encorporate all ( reapeating again all) features plus somthing new features,then launch the product
r
The look needs to be changed and the resolution should be 65K instead of 4k and the most important thing is Price and apart from this the ringtone forward option should be there else its nice model
?
This phone is scheduled to sell at $70. The cheapest color phone with maximum talk time! and standby time more than a week!
S
Yuo definatly lack brain power by posting a statement "Is this new motorola generation.(Bad English as well)From the model designation (C155) one can see that this will be a budget phone.Probably only available on pay as you go.
Total of 95 user reviews and opinions for Motorola C155.