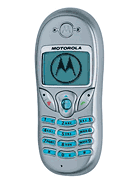 L
It's small, light & shapy & cheap too. I think it's meant for ladies. I had it & sold coz' not macho' for men.
d
Its a lovely phone just that i cant get to down load tones or type in tones becouse it was not made for those that dont now music tones.

W
It's the best, but I need the manual but in spanish, please. I am from COSTA RICA

a
this phone has given me nothing but jip. 89% of the time it keeps sending messages over and over again,costing me more money.ive tried everything to getit sorted but i cant even access the web sites in the manual i wish i never got it other user be warned. if anyone can help me please e mail at allison604@hotmail.com many thanks
M
How i can made ringtones to my phone, and how her melody, can u give sample
K
This device is very good. It is very handy and involves good features for less price
Total of 71 user reviews and opinions for Motorola C300.