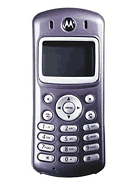 E
As far as reception goes, it's OK for an internal antena.
Browsing the menues through the wheel, the menu button, and the shortcut keys is definitely confusing.
The user manual is a joke, it leaves so many unanswered questions.
G
C333,c332,c331 is one same phone in three different model case, so you can change it from on to other case model, it fit's. it's good phone (reasonable feature in it for non color class) with good price (about $160 US, in Indonesia).
i think people will like this phone.
J
Stylish, young, especial the metal ring with the 'motorola' name. Really nice screen, cool features. Screensavers and even POLYPHONICS ringtones and GAMES(whoala!) DO DOWNLOADABLE via WAP and...MESSAGING.!!! huray!!!!! you know how cool it is! with this phone you can change everything, everything but the BATTERY! but anyway it's a Lithium ion so don't be scare!
e
we seen that motorola is the best qulity and allso move maketh hera in nigerian maketh so we need the samples to show all costomares
theank you
ezikel
P
Could anyone tell me what's the performance of this phone. Someone which has used or it's using this phone. Please e-mail me. I'm planning to buy this phone (i'm currently using Alcatel 310). thanx
Total of 187 user reviews and opinions for Motorola C333.