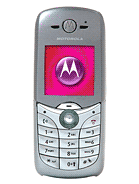 ?
A phone for young people with VGA-Cam & USB-port. Well done, Motorola
?
Best in d world! No other phone can design better than this...motomaster, we need more this kind of beautiful phone in d market. TQ very much motorola, I am very impressed.
R
WOW!!! can i just say that this cell looks really cool:) but not really liking this colour. i saw the same cell at another site (mobile-review.com) in another colour and that was better..i think
Total of 683 user reviews and opinions for Motorola C650.